A Christian MP has defended a Facebook post in which he said the BBC's Song's of Praise Gospel Singer of the Year Competition was "the BBC at its Black Lives Matter worst".
The show recently had a 'Gospel Singer of the Year' competition, with the semi-final featuring five black singers and three black judges, including Alexandra Burke, David Grant and Heather Small.
Gregory Campbell, DUP MP for East Londonderry in Northern Ireland, told Premier that he does not believe the singers were representative of the best gospel singers in the country and that the BBC is claiming to be diverse while airing an episode that had "one colour scheme". The presenter Mark De-Lisser has told Premier very few white people applied and the best singers were chosen.
The MP posted on Facebook on 31st January: "Just watched BBC TV Songs of Praise which this week was Gospel Singer of the year semi final. This I'm afraid was BBC at it's BLM worst. There were 5 singers, all of them black. There were 3 judges all of them black and one presenter who incidentally was, yes black. The singers were all very good but can you imagine an all white line up with an all white jury and presented by a white person? No I can't either."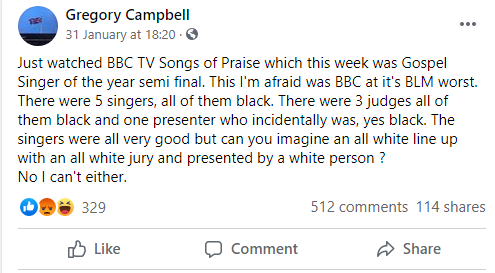 He told Premier (full interview below) : "Are you really trying to make me believe that there wasn't a single white person to make the breakthrough on any of those counts? Is that what you or anyone else would be saying? We come back to the point of diversity - gospel music covers all skin colours. No one can argue that gospel music is majority black, it is not, it is simply incorrect to say that.
"If black and white sing gospel - and they do - why are people trying to say that all of this was on merit and nobody that was white was good enough? That sounds to me, inherently racist and if it was the reverse, I would say the same."
When asked how black Christians might feel about his comments, as a Christian himself, he said he hoped black people would agree with him that diversity is good but that the show was not diverse: "Anyone who says it was, I think they need to have a look at the prgramme themselves and then have a look in the mirror."
He does not think there should be quotas but thinks people should be on the show on merit.
Listen to Premier's interview with Gregory Campbell MP speaking to Cara Bentley here:
Gospel Singer of the Year judges, Alexandra Burke, David Grant and Heather Small, Credit BBC iplayer
Presenter of the episode, Mark De-Lisser, said he was shocked when he heard about Campbell's post and thinks his comments were irresponsible and uninformed.
"I think [it's naïve for him to think] that a show cannot be fronted by a black person, myself, and have five black contestants and three black judges, which is kind of celebrating a style of music that has come out of the black community and out of the black experience in this country," he told Premier.
De-Lisser said out of the 150 people that applied to be in the competition, there was a "very small percentage that were white".
He added: "People who were selecting the five people to go into the show are all gospel people from this country who are totally qualified in order to say who is good and who represents, in terms of ability, represents clearly what gospel music is in this country. Those people chose who they felt was right, and it just so happened that none of them were white, and that is absolutely fine."
Semi-finalists, Credit BBC iplayer
Alliance MP Stephen Farry wants the DUP to effectively expel Campell from the party for the Facebook post.
Meanwhile, a statement published by the North West Migrants Forum with more than 1,000 signatures is urging Campbell to give a public apology.
"It is alarming that a political leader thinks it appropriate to use this kind of race-baiting to secure some sort of perceived political advantage, regardless of the consequences," the statement reads.
De-Lisser told Premier that Campbell's comments show there is a lack of understanding and ignorance about gospel music.
"I think he's just a little confused as to exactly what this music is. Yes, people might say it's racist, but for me, I think it's just ignorance, sheer ignorance."
Listen to Premier's interview with Mark De-Lisser speaking to Tola Mbakwe here: