Thousands of people filled Liverpool's Exhibition Centre on Saturday to hear the gospel from Rev Franklin Graham. It marked the first leg of his God Loves You Tour.
"People are searching for purpose and meaning and they're not finding it. We have a vacuum in our souls that only God can fill," Rev Franklin Graham, president of the Billy Graham Evangelistic Association (BGEA), told the crowd.
"God loves us and He sent his son Jesus Christ from heaven to earth to save us from our sins, and whoever believes in Him will not perish but have everlasting life."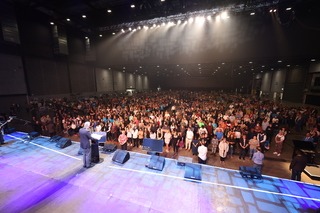 BGEA said more than 400 churches throughout Merseyside supported the event. Meanwhile, Christians from 2,000 churches across the country are working with the tour.
The event comes after Rev Graham has received criticism from the Mayor of Liverpool for bus advertisements of the tour. Steve Rotherham called for the ads to be removed and called the evangelist a "known hate preacher" due to his opposition to gay marriage.
The BGEA said: "There is nothing offensive in these adverts. The objection is to Rev. Franklin Graham and the Billy Graham Evangelistic Association based on our Christian beliefs. Unfortunately, this opposition is familiar and predictable.
"Despite efforts to mischaracterise Rev Graham as a 'hate preacher' he has made it clear that he is coming to the UK with one purpose—to share a message of God's love for all people. This is why the tour has been named the God Loves You Tour. We welcome everyone to come hear this message of Good News."
The next stops in the tour are ICC Wales on 21st May, Sheffield Arena on 25th May, and ExCeL London on 16th July.
The programme will feature several musical guests, including Newsboys, CeCe Winans and Michael W Smith. The events are free.