The family of late evangelist Ravi Zacharias have been spotted using Ravi Zacharias' official Facebook page to encourage people to donate to a new charity launched by Ravi's daughter Naomi Zacharias.
Following a private investigation that concluded Ravi Zacharias was guilty of sexual misconduct, Ravi Zacharias International Ministries (RZIM) closed all its branches, including Wellspring International, RZIM's humanitarian arm led by Naomi.
But writing on his blog, Ravi Zacharias' son, Nathan, has announced the creation of Third Ladder, a non-profit led by Naomi Zacharias that will continue the work of Wellspring.
In addition, Ravi's official Facebook profile, which is managed by the Zacharias family, commented on a post from February 2020 made by Ravi Zacharias denouncing modern-day slavery.
Together with a link to the Third Ladder blog post by Ravi's son Nathan, the comment read: "The importance of helping those in need was always close to my Dad's heart."
The comment has had over 1,600 likes and more than 300 replies.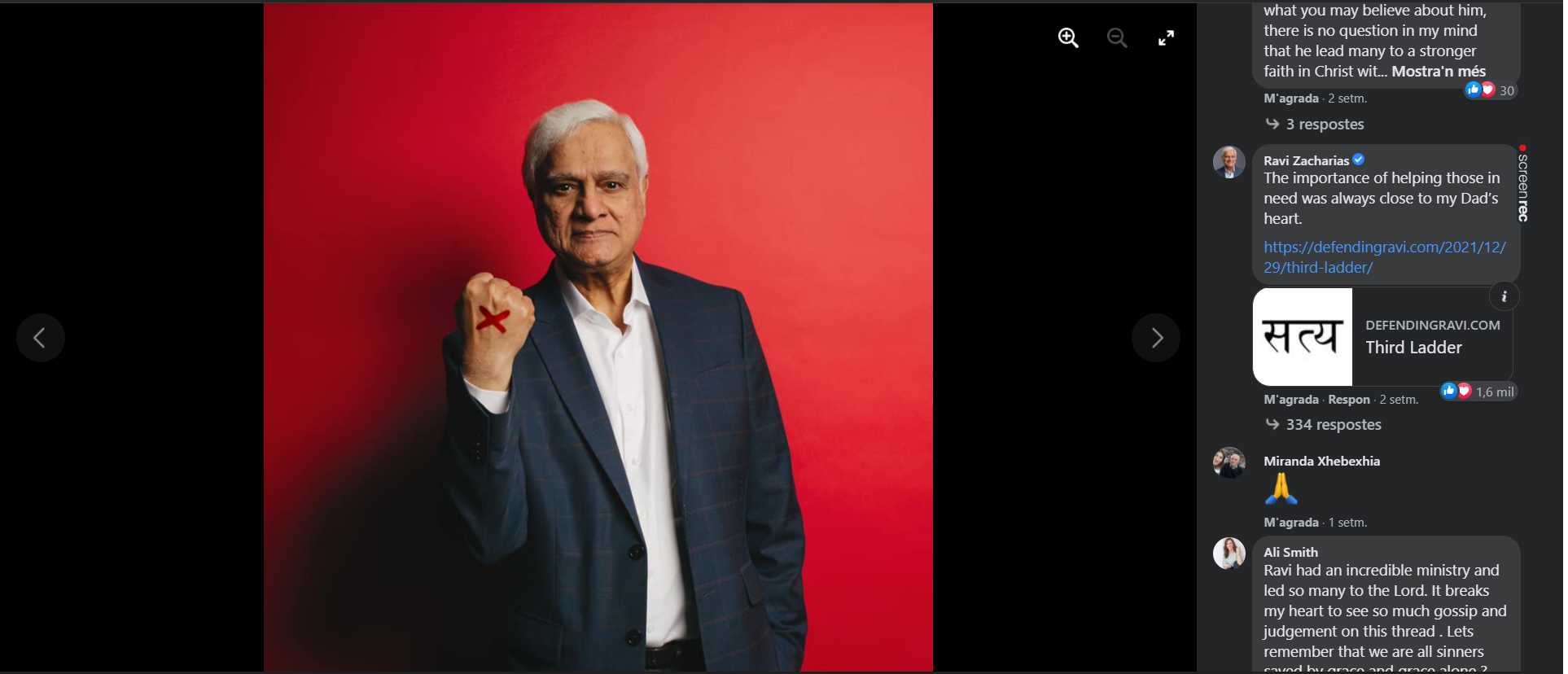 In his blog post, Nathan wrote: "I believe that one day my Dad's actual legacy will be restored. One piece of that - a huge piece - is his vision for humanitarian aid, and he entrusted it to my sister Naomi."
He continued: "As projects responded in shock and fear over what their future now held following Wellspring's closure, Naomi and her team decided they couldn't let circumstances out of their control stop the work they were doing. They launched Third Ladder as a result."
Nathan also wrote about a current donor who is matching donations up to a total of $60,000 and encouraged people to donate.
"Your money can be doubled in the effort to support projects that bring physical healing to burn victims, to feed a family, to rescue women in trafficking, to give children a home and an education.
"If you're thinking of giving at this time of year, I would encourage you to take a look at Third Ladder," he concluded.
Although Nathan states that Naomi launched Third Ladder, there's no mention of her on the charity's website nor in the charity's articles of incorporation referenced in The Roys report. Instead, Mallory Even is listed as the CEO of the charity in the organisation's 2021 Annual Registration.
When contacted by Premier for clarification regarding Naomi Zacharias' role in Third Ladder, program director Rachel Davis confirmed that Naomi Zacharias serves as executive director but is not on the Board of Directors.