Christians in Sri Lanka have commemorated the anniversary of the deadly bombings that left 267 dead and at least 500 people wounded.
The attacks carried out two years ago by Islamist suicide bombers occurred in three churches and in three luxury hotels.
Speaking to Premier, Julia Bicknell who analyses the Open Doors World Watch List, said a remembrance service was held Wednesday in Zion Church in Batticaloa, one of the churches that was bombed.
"Women, mums, aunts, friends were all weeping and very upset but at the same time, they were holding on to their hope and their faith that they will see their children, their relatives again."
Local partners from Open Doors recently visited Debbie, a girl who lost both parents and her eyesight in the attack and Rebekah, Debbie's aunt, who suffered serious burns all over her body.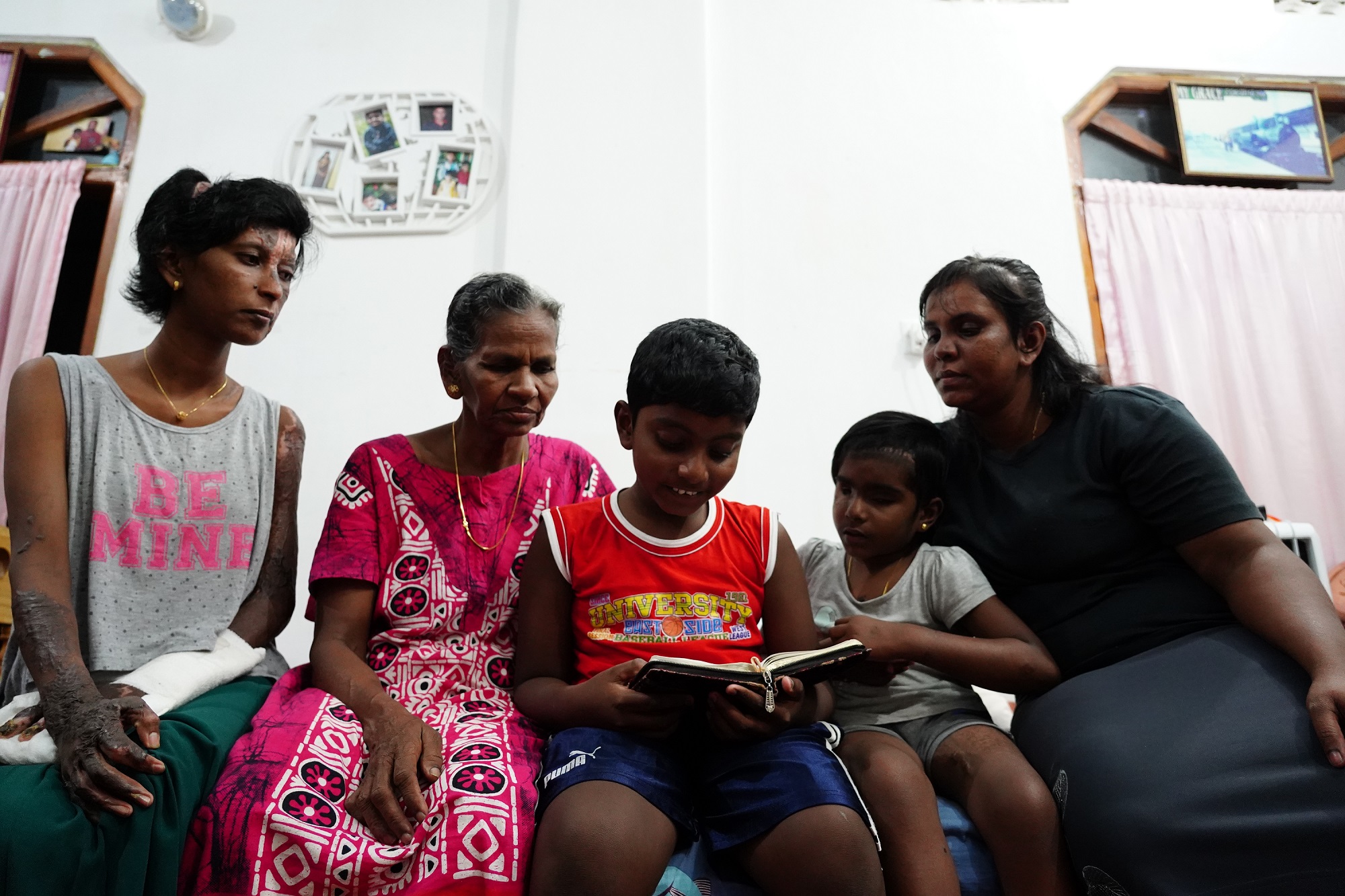 Debbie, second to the left and Rebekah first to the right
Debbie is now less dependent on her family to walk around the house, however Rebekah, despite having undergone numerous operations, is unable to move her fingers on the left hand because of her burns.
"The doctors said my fingers will not work as well as they used to, but I will be able to move them a bit more after the surgery than I can now," Rebekah said.
Last month the government released part of the investigation looking into the bombings, but many weren't satisfied with the outcome.
Bicknell said a change of government, and consequently a change of Prime Minister and President in the last two years, has meant a lot of "kicking the can down the road" as "nobody wants to actually take real responsibility".
"The latest inquiry was submitted to the current President on Easter Sunday a couple of weeks ago now and they say that they will make it public, but that we haven't heard anything since the submission of the report.
"Still, we don't really know. That is still a little bit wrapped up in secrecy and we're wondering perhaps how much things are going to be really clarified, given that politicians put their hands into it," Bicknell continued.
The publication of the report had been delayed several times meanwhile the victims' families continue to "seek justice, as well as healing."
When asked how we can best be praying for Sri Lankans at this time, Bicknell said: "The current President is very authoritarian. I think this general sense from what we're hearing from Sri Lanka is ethnic tensions, inter-religious tensions, and inevitably Christians are going to be caught in the middle of that. So, I think what we should pray for is the general lack of trust, lack of community connection and engagement in Sri Lanka."
You can listen to the full interview with Julia Bicknell here: