The MP for St Ives, where the G7 summit is being held, says he's asked the Prime Minister for an agreement committing to progress on vaccines and climate change.
Derek Thomas, who's a Christian, was speaking to Premier as Boris Johnson and other world leaders are discussing offering one billion jabs to the poorest countries in 2022.
Thomas says he wants the leaders to support a pandemic recovery that is fair for everyone the world over, with Covid vaccines available across the globe. He also wants decisive action on mitigating climate change.
"We know as Christians that we're taught to look after the planet, that's at the very beginning of Scripture. And that's our responsibility. We worship a Creator God who gave us this wonderful thing for us to enjoy. And so, I asked Boris Johnson yesterday for a Carbis Bay agreement that we can keep referring to and checking that we're delivering. So, if we could pray that they would just agree with me, then I think that would be fantastic."
When asked about the controversy surrounding talks over Northern Ireland trade with the EU, the Conservative MP says while he thinks the leaders will allude to the subject, it is a domestic issue and there are much bigger, global issues to discuss:
"Realistically, while it's hugely important to the UK, to Europe and to Northern Ireland, what we're talking about is really a domestic issue that can be addressed and will get sorted out. The agenda is 'How do we respond to the planet? And how do we care for everyone around the world wherever they might live?'"
This evening, the Queen, Prince Charles, Camilla and the Duke and Duchess of Cambridge are meeting the G7 leaders at the Eden Project:
"The funny thing about this summit for me has been having to keep these secrets. We were told some time ago there'd be a royal visit and now obviously the public know. And my heart is that their gentle approach with these world leaders will really be useful for recognising that we can do so much as the world's richest nations - we can do so much to really turn around the fortunes and life chances of all people and I think that the Queen has an incredible ability to challenge, but in a lovely gentle way and I'm sure that'll be great for our Prime Minister."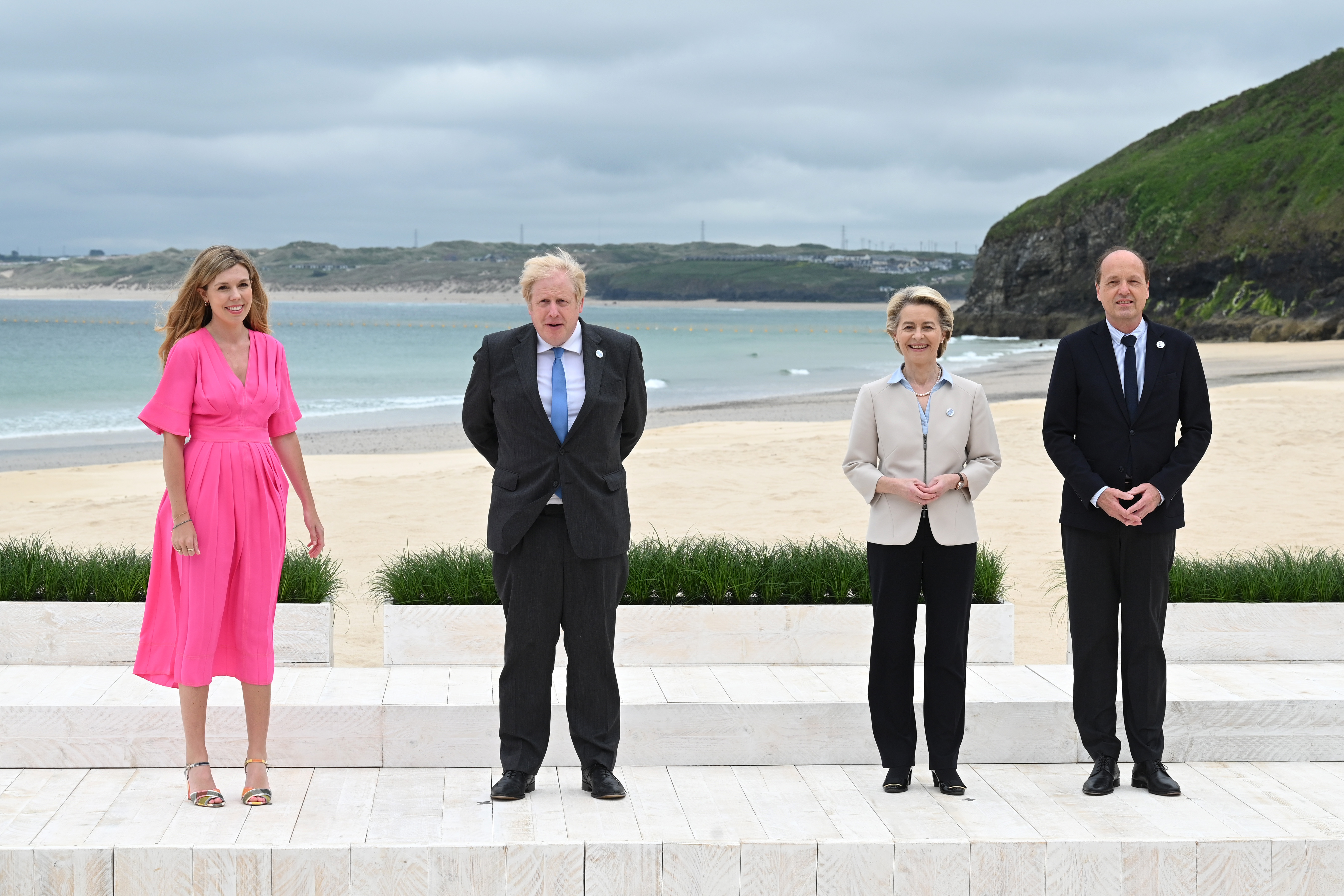 PA Leon Neal
The world's spotlight is on Cornwall like never before – with even the astronaut Tim Peake visiting Goonhilly Earth Station today. He's part of a wider conversation around monitoring, climate change, illegal fishing, deforestation and caring for creation.
But it's not all work for the leaders in Cornwall. Tomorrow evening, the Cornish mizzle is set to lift and they'll enjoy toasting marshmallows at a classic Cornish BBQ on the beach:
"So it's a celebration and hopefully a relaxed evening after some really challenging conversations I'd imagine," Thomas said.