Churches could be asked to introduce new security measures, with volunteers responsible for considering the terror threat.
The Government is seeking to make all publicly accessible buildings and spaces safe from terror attacks by introducing legislation that would make sure threats had been assessed and recommended security measures implemented.
The plan is to introduce a 'Protect Duty' to ensure this has been done, which Security Minister James Brokenshire says would involve "minimal new costs" and would be tailored to different needs. The Government says it is likely many buildings will already have similar procedures in place, or that any new measures would also help limit other types of crime such as theft.
Places of worship are listed as among the types of buildings this would apply to.
The Protect Duty consultation paper says: "in the absence of a legislative requirement, there is no certainty that considerations of security are undertaken by those operating the wide variety of sites and places open to the public, or, where they are undertaken, what outcomes are achieved. This consultation considers how we could improve this position, through reasonable and not overly burdensome security measures."
However, with churches often running on volunteers or minimal staff, some church leaders are concerned that this would burden pastors, elders, deacons and PCCs with more responsibilities on top of their important duties to uphold health and safety and safeguarding legislation.
The proposals repeatedly say that most changes will involve low or no costs but does list potential financial and time costs.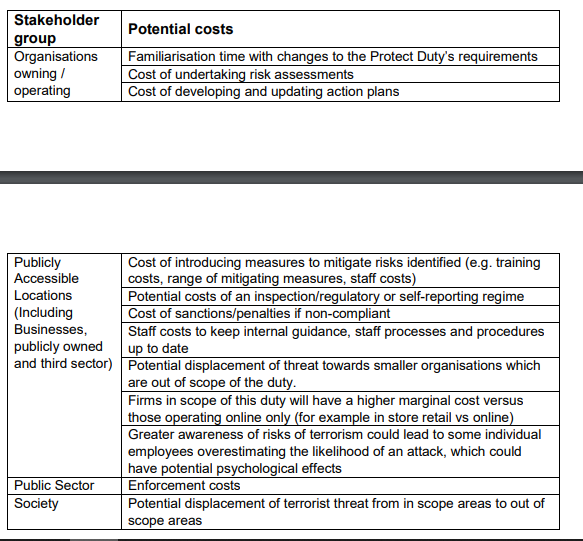 Security measures might include: having plans in place to react to different threats which are understood by all staff and regularly exercised; having training courses for new staff and refresher training programmes; and having security measures such as door locks and roller shutters for crime prevention and anti-social behaviour, which may also be used in response to other security threats.
The proposals advise people in public buildings to be alert to suspicious behaviour, such as asking lots of questions, taking photos or loitering, as it could be someone checking out the venue ahead of an attack.
The Government wants to introduce this legislation on venues that have a capacity of 100 people or more and the duty will apply to the owners and operators of the building. It adds: "Where there is a shared organisational responsibility for a venue within scope, the parties would be required to work together to ensure the Duty requirements were met."
The Government is asking people for their opinions about these responsibilities, such as who should have responsibility, what size criteria there should be and whether they think any building should be exempt.
You can respond to the consultation here. To read the full consultation paper, click here.