The Methodist Church, which voted to allow same sex marriage on 30th June, has released guidance on how to conduct wedding services in a church.
The Methodist Conference voted 256-45 in favour of extending marriage to gay couples and allowing ceremonies to take place on its premises and by its ministers, with the first weddings expected this autumn.
The marriage liturgy now states: "No one should enter into this lightly or selfishly, for marriage involves the giving of two persons wholeheartedly to each other."
The approved liturgy also says that when it comes to pronouns "the preference of the person should always be followed," although the terms "husband" and / or "wife" must still be said legally.
Guidance has also been written for a Methodist service that would bless a gay couple who have already been married outside the church. This includes vows that ask each partner to confirm their commitment, for example:
"A, you have come here as C's husband/wife/spouse seeking God's blessing upon your marriage, and desiring to live according to God's will. I ask you, therefore: will you love her/him/them, comfort and honour her/him/them, be her/his/their companion through all the joys and sorrows of life, and be faithful to her/him/them as long as you both shall live?"
Churches that wish to hold same sex weddings must register by applying to the local registry office, paying a fee of £64 and attaching a copy of the marriage service they plan to use. This must also be accompanied by a letter of consent signed by the trustees of the building to affirm that the congregation agrees with the change.
Churches are not obliged to register and can still stay in the Methodist church if they do not.
Other churches may have congregations who are split on the issue, or have a building which is shared by two congregations who take different views. The checklist states: "Consent letters are required on behalf of EVERY congregation that uses the building for worship."
The denomination has produced a flow chart to help its churches make a decision about whether to register or not, encouraging them to step back from making a rash decision if there is not consensus, it reads: "You may decide to step back from decision making to focus on living with contradictory convictions, or to continue the process to explore the decision more deeply, and to agree to regather to make a decision another time."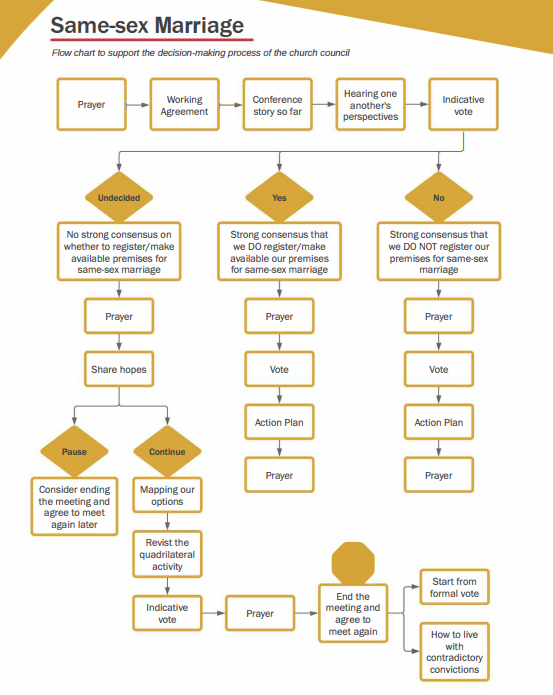 Speaking to Premier in June, Methodist minister Sam McBratney, chair of the LGBT+ Methodist group Dignity and Worth, said: "We will do our utmost to build a church where we live well with contradictory convictions. So, even passing this motion today does not in any way commit every Methodist member or minister to agree with same sex marriage."
Speaking from the other point of view, Rev Dr David Hull, chair of Methodist Evangelicals Together, told Premier: "Some people have already changed churches, others are thinking about their future, others feel called by the Lord to stay no matter what and work to change."