A day of relief for some has been a day of sorrow for others in the Methodist Church, as it approves of same sex marriage.
The Methodist Conference voted 256-45 to allow same sex weddings to take place on its premises and by its ministers, with the first weddings expected this autumn.
Methodist minister Sam McBratney, chair of the LGBT+ Methodist group Dignity and Worth, told Premier: "Personally, I'm utterly delighted at the outcome. I think it's fair to say, it's taken 42 years of conversation about marriage and relationships to get to this point, and the work isn't finished yet but my hope is that LGBTQ people within and beyond our church will hear this as an affirmation of their dignity and their worth and the worthiness of their relationships."
Local congregations and ministers will now have to decide whether they want to register their building and themselves as an authorised registrar. Sam McBratney said: "I know some churches have already said that they want to go ahead as quickly as possible."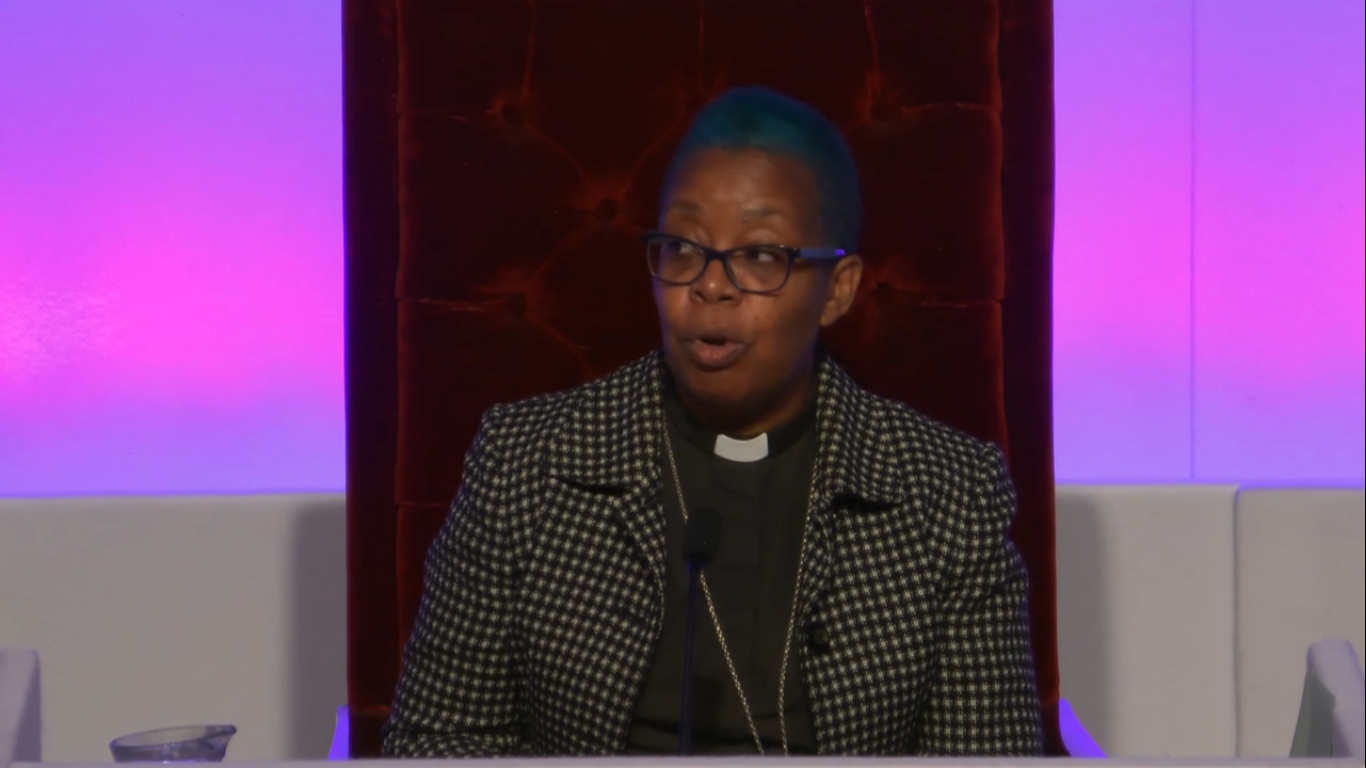 President of the Methodist Conference, Rev Sonia Hicks, chaired the debate
References were frequently made during the debate on Wednesday on the importance of making sure those who could not agree with same sex marriage theologically felt able to stay in the church and maintain unity with the denomination on other matters.
McBratney said that the pro-gay marriage wing has "been careful throughout all of this process to listen to everybody's voice in the church...we don't agree and we acknowledge that and we will do our utmost to build a church where we live well with contradictory convictions. So, even passing this motion today does not in any way commit every Methodist member or minister to agree with same sex marriage."
Speaking from the other point of view, Rev Dr David Hull, chair of Methodist Evangelicals Together, who wanted marriage to stay between a man and a woman, told Premier it was "a very sad day for the Methodist Church" and the whole Christian church.
He explained: "It's heart-breaking really to see where we've come and the way in which we've got here, and many of us have wept over it. In spite of these votes there are many, many Methodists who still believe that Jesus offers a unique vision for life - one that is rooted deeply in the Bible, that is better than the world has ever known, better than the world will ever know and that includes this teaching on marriage and relationships."
When asked if evangelical believers will leave the Methodist Church, he replied: "I think we'll have to wait and see. Some people have already changed churches, others are thinking about their future, others feel called by the Lord to stay no matter what and work to change," but he added that the protection of the 'conscience clause' for many Methodists "is just unsustainable and I think that will have profound consequences for the future of the denomination."
With the Methodist Church being the largest denomination in Britain to change its teaching on same sex marriage, there is talk about how this will impact discussions in the Church of England, which also only allows traditional marriage.
Red Dr David Hull's message to his evangelical peers in other denominations was: "My prayers are filled with an earnest, passionate desire that people will continue to remain faithful to the Lord and to his word, but are also filled with hope...In many ways, these are profound changes for the church, in other ways, nothing of any significance has changed at all - Jesus is still seated on the throne, He still has all authority in heaven and on earth...Nothing changes that, nothing has changed that today."