US missionary Andrew Brunson has opened up about his harrowing two-year experience in Turkish prisons.
In an interview with Premier Christian News, the American pastor revealed his detainment "broke him".
"The truth is that the first year, especially, I broke, I went into deep despair," he said.
"I especially had doubts and questions about God, I felt abandoned.
"I had run after God's presence for years and had experiences of his presence.
"I assumed that when I was in this very difficult situation, suffering for the sake of Jesus, that I would have a sense of presence and of strength and of joy and of grace. That's what I had read in biographies before.
"So, I was very surprised when I didn't have that, I actually felt very weak. I felt broken. I did not have joy.
"I did not sense God's presence for the entire two years. He was with me, he didn't abandon me, but I felt that way."
The 52-year-old pastor lived in Turkey for more than 20 years with his wife Norine.
In 2016 they were both arrested. While, Norine was soon released, Andrew ended up spending two years in various Turkish prisons accused of what religious freedom campaigners said were bogus terrorism-related charges.
He was charged of being involved in leading a failed coup in Turkey in 2016, among other far-fetched claims.
"I was also supposed to be a supporting the PKK which is a Kurdish terrorism group," he said.
"They also said I was the head of the CIA for Turkey, then they changed it to the head of the CIA for the Middle East. Then they increased it and said that if I had been successful in leading the coup, then I had been promised that I would be made the director of the CIA. So there were a lot of crazy things like that.
"One funny one to me was when the newspapers there said Israeli secret police were planning to assassinate me because I know where Saddam Hussein's gold was hidden. They didn't want me to divulge this information to the Turks and so they were going to kill me."
Brunson said the Turkish government knew those accusations weren't true but used him as political bargaining chip.
"I think they were really trying to intimidate other missionaries so they would self-deport. They were trying to intimidate Turkish Christians," he said.
"And eventually, they also just started using me as leverage. The phrase 'hostage diplomacy' was coined in relation to my case. They were using me as a hostage to try to gain concessions from the US."
That's when US President Donald Trump came in the picture. He became an advocate for the pastor, relentlessly fighting for his freedom.
Brunson said he's unsure whether he would be free today if Mr Trump wasn't in office, but he does know that God used him.
"I don't know what God's plan would have been, but I do know that he (Trump) was involved in an unprecedented way," he said.
"What I've been told by people who know these things, is that an American president is very rarely involved directly in negotiations like this. They will appoint somebody to do it, but they themselves will not be involved.
"But Trump was involved numerous times since from early on, requesting my release, and it became a real sticking point between the two countries that anything they wanted to discuss would start with request for my release.
"It came to the point where the US officials would say we're not discussing anything else until you release them. And so eventually Trump imposed sanctions on Turkey. The US hadn't imposed sanctions on a NATO ally in the past."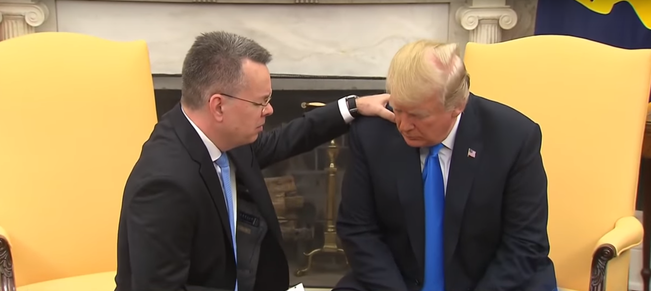 More than a year after his three-year sentence was quashed, Brunson said he had a year of spiritual and emotional healing that had to take place.
He now sees why God may have chosen him to go through the suffering.
"I went through a period of real brokenness, and then there was a rebuilding process. It also brought some healing and strength into my life, so that actually came out of prison stronger than when I went in.
"I think that whatever the Turkish government was intending to do, God was really using it.
"He took what they intended to do to harm me, and he turned it completely around. He raised up a prayer movement.
"I've been told it was an unprecedented prayer movement focused on one person. And millions of people around the world began praying for me. And this prayer just poured into Turkey."
Brunson said he believes it was part of his life assignment to "prepare Turkey for a powerful move of God".
"It was President Erdogan that was holding me as a hostage, but I think that God was involved in all of it. And when he had accomplished what he wanted that he caused my release."
While Brunson enjoys being far away from overcrowded prison cells and spends his time with his new grandchild, he said he can't ignore God's pull for him and his wife to go back to the mission field.
"It is still very much on our hearts and we're right now we're looking for ways that we can be involved," he said.
"We cannot go back to Turkey at this point. We would like to someday be able to go back and see the amazing work God is going to do there but our goal is to be involved in missions."
Listen to the full interview with Andrew Brunson on The Profile here.