Dame Andrea Leadsom MP has opened up about the reasons why she withdrew from the Conservative Party leadership race in 2016 and how sometimes climbing the career ladder is the best way to get things done.
In an interview with the Liberal Democrat MP Tim Farron, the Christian MP for South Northamptonshire said that as a young teenager she was terrified of the world being destroyed by nuclear weapons and joked that she wanted to become an MP so she could save the world from obliteration. After becoming a Christian as an adult and having children, she was appalled at the treatment of women in the workplace once they became mothers.
Having left banking to go into politics to change things for 'Babies, Banks and Brussels', she ended up standing for Conservative Party leader just six years later after the Brexit vote and David Cameron's resignation.
During the final round of the Conservative leadership race in 2016 she withdrew, leaving Theresa May to become Prime Minister.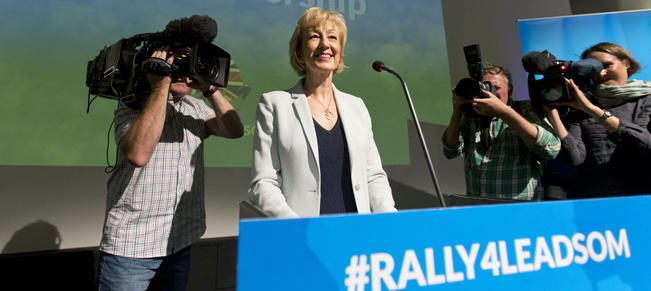 Leadsom, speaking on the political podcast A Mucky Business, said: "Obviously, it was very tumultuous. But ultimately the reason I stood was because I felt I needed to stand up and be counted, I genuinely did not think that David Cameron would walk away, I was really shocked that he did. He always said he wouldn't. I felt I couldn't not be willing to own that situation. So, that's why I stood.
"But ultimately, actually, it was the reflection of many days and talking to my Bible group leader, and to a number of other Christians and people who I have a great deal of regard for, about the fact that what was in the country's best interest.
"The problem with being in the final two was that there was going to be a nine week campaign, the markets were in turmoil, there were already predictions of a recession and what I was so concerned about was after nine weeks, if I won, there were already a number of colleagues saying that they would 'no confidence' me and, as we've discovered, you only need 100 of your side in the Conservative Party to 'no confidence', and you're back in a leadership campaign! On the other hand, if I lost, people would very legitimately be saying, 'What on earth did you make us wait nine weeks to get a new leader for?' So, that's why I withdrew. You know, with the information I had at the time, I would make the same decision today. I mean, hindsight is a wonderful thing, but at the time, it felt like the right decisions for the right reasons."
Since then, she has had several top jobs, including Business Secretary and Leader of the House of Commons. When asked whether she thought ambition was an acceptable characteristic in a Christian, she replied that sometimes climbing the career ladder is the best way to achieve change:
"I came into parliament in 2010 not really thinking particularly about anything beyond being a member of parliament. I never really thought about climbing the greasy pole but of course when you get here, that is the reality, that is the currency. You start off as a backbencher and then you need to look at the next rung on the ladder. And unfortunately, that really pervades this place and it actually I think accounts for some of the huge anxieties that MPs have about: Where am I going? What's the point of me? What am I doing?
"I've always thought that you can have a superb political career as a backbencher, and you can achieve some really amazing things. But, nevertheless, actually, if you really want to do some big things, then you've got to play the game, you've got to get yourself promoted. I don't think that there's a problem with that."
Leadsom explained how she entered the House of Commons with three passion, and that she can find it frustrating when speakers at the front of Christian festivals suggest that ambition is wrong:
"People will argue from the front that you need to be humble, you need to not put your head above the parapet, politicians are bad...blah, blah, blah. And I've always held the view 'no', you are given certain gifts and if you are wanting to fulfil your gifts, then you have to go for it. You can't just sit back and so, yeah, I think ambition is perfectly fine."
She also spoke about how she became a Christian, her nerves before the EU debate in Wembley Arena and what she enjoys about being a backbencher again.
You can listen to the full interview here.