The presiding bishop of the Episcopal Church has spoken out about the 'Black Lives Matter' protests that have been gripping the United States over the past few days.
Rev. Michael Curry, one of the most recognisable African-American church leaders in the US, urged protesters to "choose love" and reject violence as they stand up against the problem of systemic racism.
Writing at the Washington Post, Curry lamented the recent death of George Floyd and the many other young black men and women who have been killed in confrontations with the police. He also called for people to come together not in violence, but in peace.
Rev. Curry wrote: "I recommend a different path - the path of love.
"Our nation's heart breaks right now because we have strayed far from the path of love. Because love does not look like one man's knee on another man's neck, crushing the God-given life out of him. This is callous disregard for the life of another human being, shown in the willingness to snuff it out brutally as the unarmed victim pleads for mercy.
"Love does not look like the harm being caused by some police or some protesters in our cities. Violence against any person is violence against a child of God, created in God's image. And that ultimately is violence against God, which is blasphemy - the denial of the God whose love is the root of genuine justice and true human dignity and equality."
Curry, who rose to international prominence after delivering the sermon at the wedding of Harry and Meghan, added that love "does not look like the silence and complicity of too many of us, who wish more for tranquility than justice."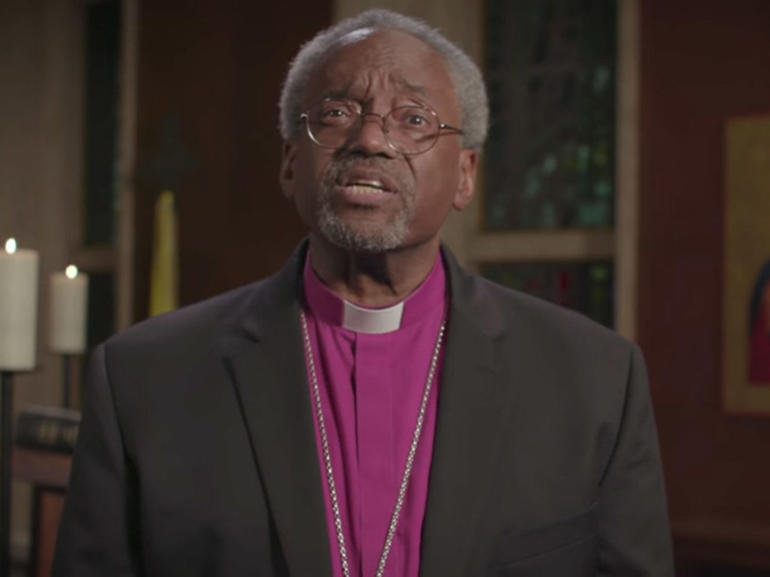 In the violence and rioting, Curry said he notices "love's profound and tragic absence" and urged a better way - one that will affect real and lasting change in society.
He wrote: "When I think about what love looks like, I see us channeling our holy rage into concrete, productive and powerful action.
"In this moment, love looks like voting for leadership at the local, state, and federal level that will help us to make lasting reform. Love looks like calling on officials and demanding they fulfill their duty to protect the dignity of every child of God.
"Love looks like making the long-term commitment to racial healing, justice and truth-telling - knowing that, without intentional, ongoing intervention on the part of every person of good will, America will cling to its original, racist ways of being.
"Love looks like working with local police departments to build relationships with the community and develop mechanisms that hold officers accountable.
"Love looks like all of us - people of every race and religion and national origin and political affiliation - standing up and saying "Enough! We can do better than this. We can be better than this."
Ultimately, Bishop Curry said, love is personified in "what Jesus of Nazareth taught us."
"It looks like the biblical Good Samaritan," he added, "an outsider who spends his time and money healing somebody he doesn't know or even like."
Bishop Curry concluded that "now is the time for a national renewal of the ideals of human equality, liberty, and justice for all."
He remarked: "Now is the time to commit to cherishing and respecting all lives, and to honoring the dignity and infinite worth of every child of God. Now is the time for all of us to show - in our words, our actions, and our lives - what love really looks like."