A house church leader in China has been officially arrested and charged after nearly seven weeks in detention.

Zhang Chunlei, an elder of Love Reformed Church in Guiyang in China's southwestern Guizhou province was first placed under detention for "illegally operating as an association" on 16th March 2021.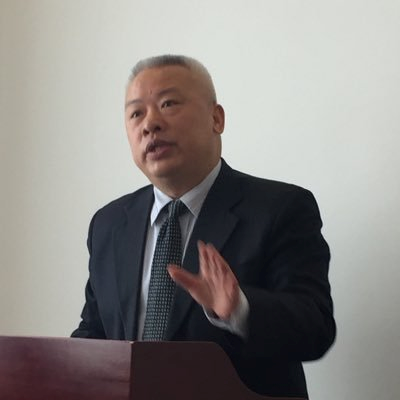 Twitter/Zhang Chunlei
His detention followed a police raid on a Christian retreat at a privately rented property in Guiyang earlier that day. Among the participants were some members of Love Reformed Church, an unregistered Protestant church shut down by the authorities in September 2018.
At least five church members were detained; a dozen homes were searched, with documents, computers and phones confiscated; several members have been repeatedly summoned and many questioned by police.
On 1st April, Zhang Chunlei's family received notification that he had been criminally detained "on suspicion of fraud". His wife Yang Aiqing was served a criminal summons, also "on suspicion of fraud" on 21st April. She was made to wear handcuffs and leg shackles while being interrogated before she was released 24 hours later.
Reports have emerged that the authorities formally arrested Mr Zhang on 1st May, the same day that China's new administrative measures on religious clergy came into effect.

The Chinese authorities often target Christians with political or financial charges, including "inciting subversion of state power", "divulging state secrets", "illegal business operation" and "fraud".
In a prayer newsletter dated 1st May 2021, Love Reformed Church condemned the authorities' harassment and intimidation of its members as "serious trampling on the Christian faith." The letter states, "We know that he [Elder Zhang] has been treated so unfairly because of his faith. The so-called charges against him for scamming brothers and sisters are simply unfounded; the 'suspected fraud' is outright absurd!"
Christian Solidarity Worldwide's founder Mervyn Thomas said: "Zhang Chunlei has spent over six weeks in detention on completely unfounded charges, and has now been formally arrested on fraud charges that are equally spurious. We call for his immediate and unconditional release, and for all charges against him to be dropped. We also urge the Chinese Communist Party to cease its crackdown on Love Reformed Church, as well as other religious groups across China. International engagement with China must include challenges to its flagrant violations of human rights, including the right to freedom of religion or belief, at every opportunity."