Donald Trump has shared a doctored court sketch of himself sitting beside Jesus Christ, on the first day of his civil fraud trial.
The image's creator Dom Lucre, claims it represents the son of God sticking by the former president's side throughout his court proceedings.
Trump, who is facing penalties for business fraud re-posted the picture to his Truth Social account on Monday night.
Accompanying the original post by Lucre, depicting the pair sat together at the Manhattan courthouse, a statement reads: "This is the most accurate court sketch of all time. Because nobody could have made it this far alone."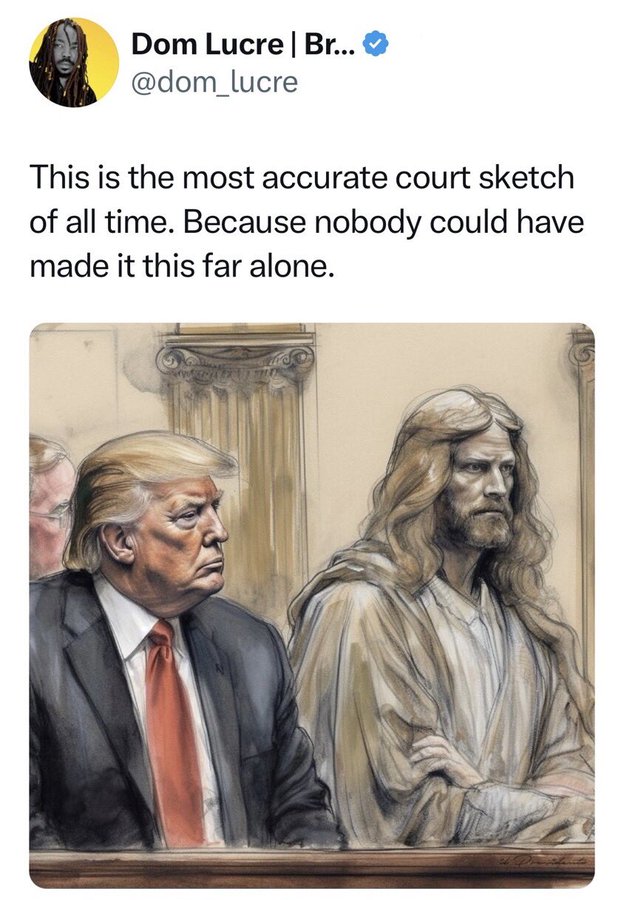 Fraud trial proceedings against Trump and his business practices began on Monday. He faces a civil lawsuit and a fine of $250m (£204m) for alleged fraud committed through the Trump Organization.
The former president and 2024 candidate has denied the allegations, labelling the lawsuit a politically motivated "witch hunt".
Judge Arthur Engoron, who found Trump liable for one fraud claim last week, will consider a further six claims of fraud. Democrat and attorney general Letitia James, has accused Trump of deceiving banks, insurers and others "year after year" through paperwork that overvalued his assets, in a bid to obtain favourable bank loans.
The New York attorney is seeking $250 million (£207 million) and a ban on Trump doing business in the state of New York. The judge has already ruled that some of Trump's limited liability companies should be dissolved as punishment.
James' lawyer Kevin Wallace told the judge on Monday that Trump and his company had lied "year after year after year" in his financial statements to make him look richer than he really was.
Trump's lawyers said the statements were legitimate representations of the worth of unique luxury properties, with Trump's valuable association attached. "That is not fraud. That is real estate," lawyer Alina Habba said.
The trial is expected to last into December 2023.