The US President has tweeted asking for prayer for future Presidents as he faces trial in the Senate over his conduct in office.
Donald Trump wrote on Twitter on Wednesday: "Can you believe that I will be impeached today by the Radical Left, Do Nothing Democrats, AND I DID NOTHING WRONG! A terrible Thing. Read the Transcripts. This should never happen to another President again. Say a PRAYER!"
The President is accused of asking Ukraine's President to investigate his political rival Joe Biden, the former Vice President and potentially the Democrat candidate he will stand against in 2020. As foreign involvement in elections in this way is illegal, he is being accused of abuse of power.
Secondly, he is also being accused of obstructing Congress by failing to co-operate with the impeachment investigation.
The House of Representatives, currently made up mostly of Democrats, needed a simple majority of over 50% to impeach the President on Wednesday.
The process then moves on to the Senate where the President will stand trial, but he is unlikely to be removed from office as the Senate is currently home to mostly Republican members.
Greg Swenson, a Christian member of Republicans Overseas UK told Premier: "Almost every Democrat supports the impeachment and just about every Republican is against it.
"Most importantly, in the states that are critical to this election in 2020, you see a majority - even as high as 58% in Wisconsin - that are against impeachment. So it's pretty clear that the whole show, the whole impeachment sham, has been a failure for the Democrats and it's actually boomeranged on them."
Recently, Nancy Pelosi, a Democrat and Speaker in the House of Representatives said in a press conference that she prayed for the President, something Mr Trump doubted in a strongly-worded letter to her on Tuesday, saying: "You are offending Americans of faith by continually saying 'I pray for the President.'"
Mr Swenson also thought she said it for political reasons, telling Premier: "If I thought she was sincere, I'd be all for it."
Other Christians in America have been voicing their disapproval of the President, with Bishop Talbert Swan, the pastor at Spring of Hope Church Of God in Christ, who often posts about politics and race, saying that Donald Trump should "shut up and take your impeachment like a man".
He added: "FACT: If @realDonaldTrump was that Black guy accused of being born in Kenya, every GOP member of the House would be voting to impeach with the exact same evidence, which would go from being 'hardly enough' to 'overwhelming.'"
Rev. Patricia Allen-Stewart attended the "Nobody Is Above the Law" impeachment rally at Washington Square in Dubuque, Iowa, on Tuesday.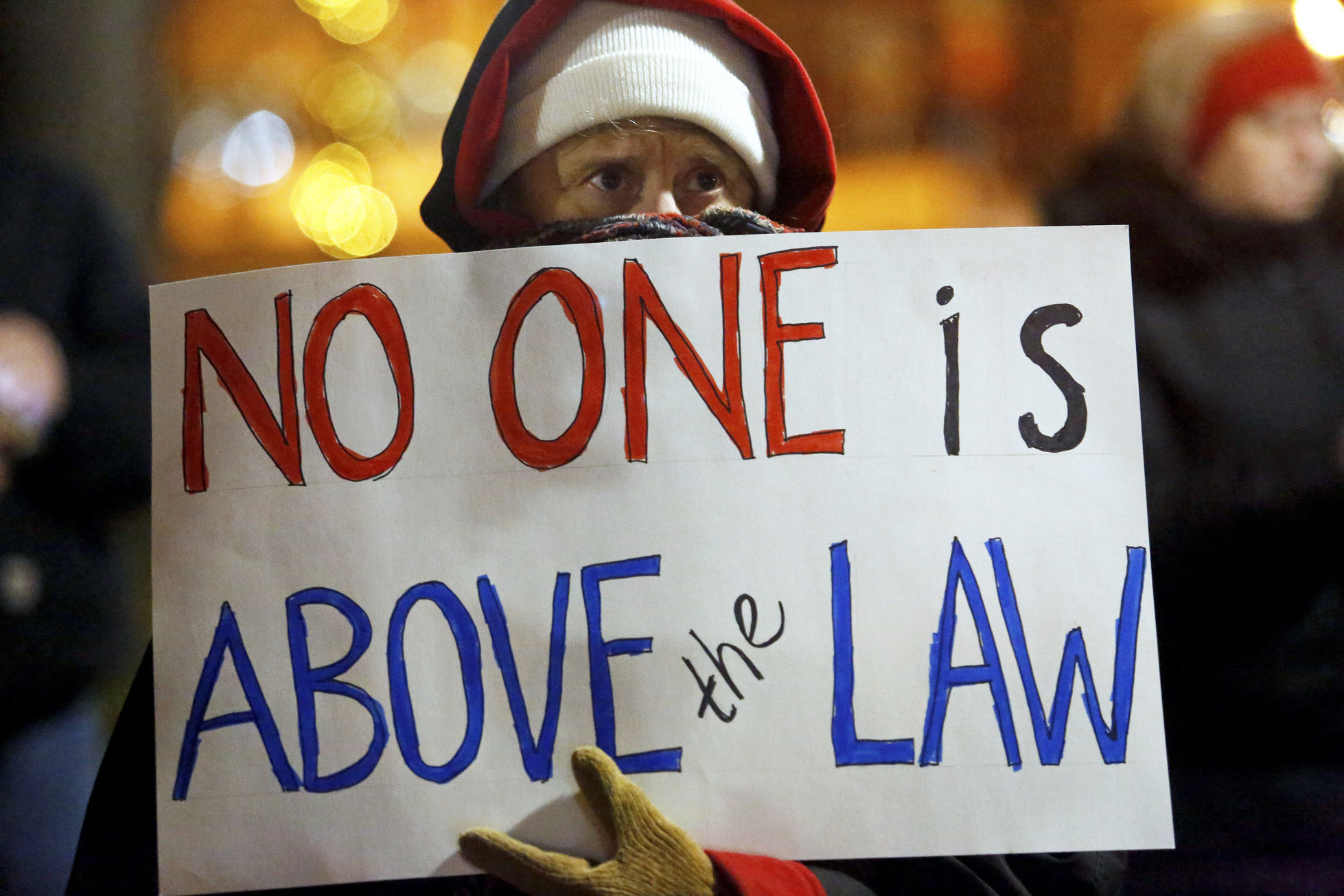 Kate Warren, author and wife of pastor Rick Warren saying: "I am appalled that the POTUS repeatedly encourages physical violence toward those who oppose him in rallies. This is not leadership. It's not even adult behavior. This is childish foot-stomping at best."