Former General Secretary of the Evangelical Alliance and senior UK church figure, Rev Dr Joel Edwards, has died from cancer.
On Wednesday morning, the family confirmed the passing of the 70-year-old pastor by posting a letter Rev Edwards had written thanking people for their prayers.
"This is to say a final goodbye. First, my incredible thanks for your prayers, love and holding on with me to that fingernail miracle," the letter said.
"Words cannot express the depth, breadth and height of my gratitude, but I have gone home.
"My earnest prayer is that your faith and tenacity on my behalf will not be considered a pointless religious exercise, but that it will have strengthened your faith in a God who is marvellous, mysterious and majestic in all that He does: The Faithful One."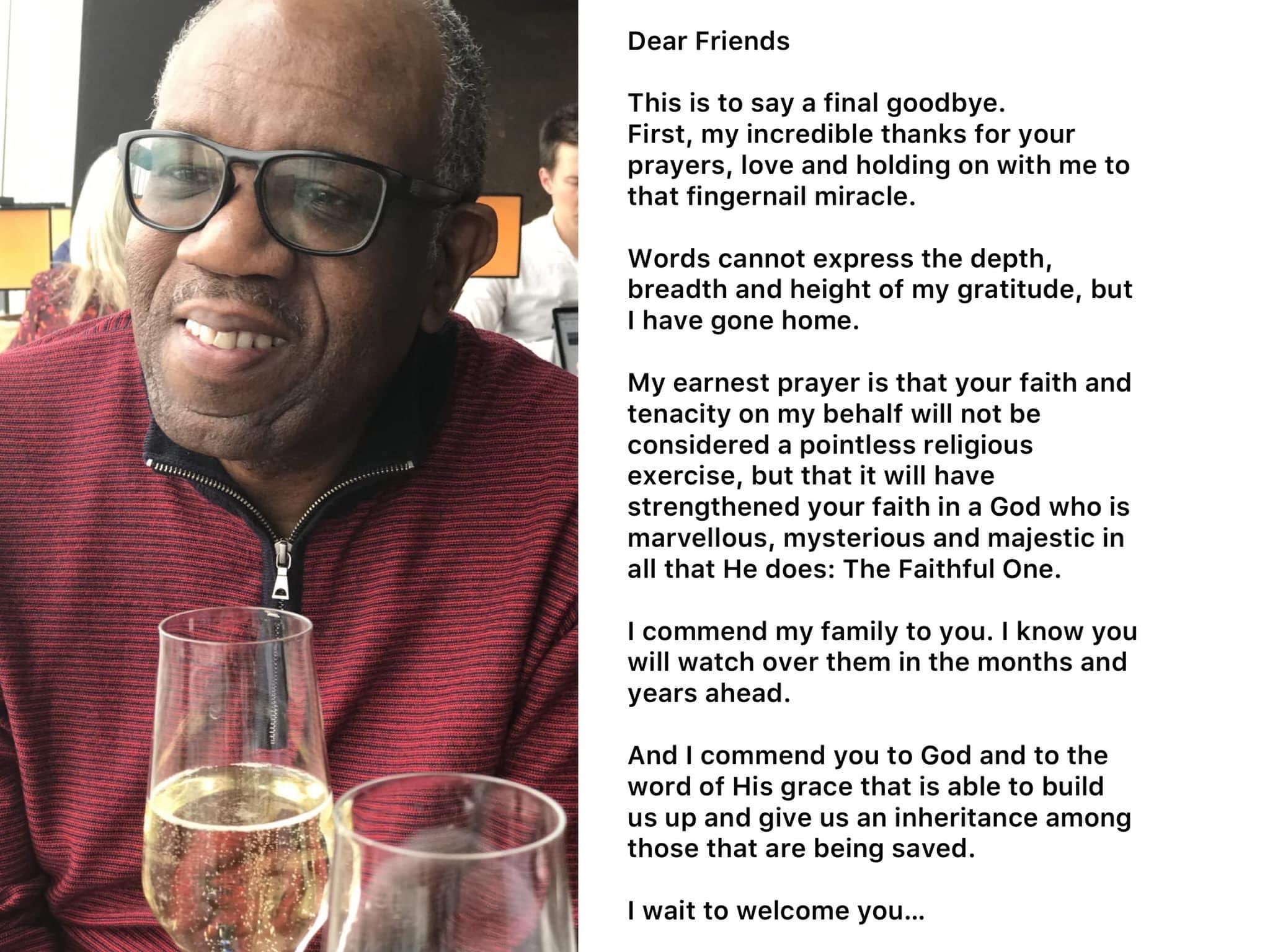 Having migrated from Jamaica at the age of eight, Rev Edwards worked as probation officer and was the minister of a New Testament Church of God in East London for ten years.
He later went on to become the first pentecostal general director of the Evangelical Alliance in 1997, after serving as the general secretary for the African and Caribbean Evangelical Alliance for four years.
"Joel was a hero, a mentor, a developer of so many," Gavin Calver, the current general director of the Evangelical Alliance told Premier. "He was also a great pastor. He cared about what you felt was small, because he cared about you as well. He really was quite a man, and we will miss him dearly. He was an extraordinary leader of the Evangelical Alliance, but also a wonderful man."
Calver continued: "Three weeks ago was the last time I had, what I would consider to be a call where I needed to ring him for advice, because I needed help. And even sort of right until, almost when he went to meet Jesus, he was still investing still pouring in.
"So, I think be inspired by the man who was ready to meet Jesus, but the man as well who till the end was pouring into others to build a stronger kingdom and to seek to make Jesus known."
During his eleven years as a director, Rev Edwards received the title of honorary canon at St Paul's Cathedral and was appointed a commissioner for the Equalities and Human Rights Commission.
Mervyn Thomas, president of Christian Solidarity Worldwide and a long time friend, told Premier: "More than anything else, he was an ambassador for Christ. We're all called to be ambassadors for Christ but Joel was an ambassador to Christ to this nation and internationally, whether that was was talking to political leaders, whether he was, on television programs or radio programs. He was a fantastic ambassador for Christ,"
When he finished his time in the Evangelical Alliance he became a member of the International Religious Advisory Council to Tony Blair's Faith Foundation as well as director of Micah Challenge, a coalition of Christian development agencies mobilising UK Christians against poverty.
In 2009 he also published his book "An Agenda for Change".
Here are some of the tributes: