Tributes are being paid to a man in India regarded as the world's longest serving Bishop.
Dr Philipose Mar Chrysostom, the Metropolitan Emeritus of the Malankara Mar Thoma Syrian Church, passed away on Wednesday at the age of 103. He'd served as a Bishop for 68 years.
In a letter to Premier, the Moderator of the Church of South India, the Most Reverend Dharmaraj Rasalam, described him as "one of the noblest human beings ever, a model of Christian life and leadership, marked by simplicity, truthfulness and wit."
The son of a Vicar-General, Bishop Chrysostom was ordained Deacon in 1944 and consecrated a Bishop in 1953. He devoted himself to the Mar Thoma Church and became Metropolitan – the equivalent of Archbishop - in 1999. (The Mar Thoma Syrian Church is an autonomous Reformed Oriental Church based in Kerala, south India.)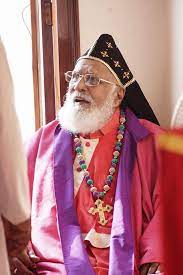 Dr Chrysostom, was committed to ecumenism and helped found the Communion of Churches of India. He received India's highest civilian honour, the Padma Bhushan in 2018 - the only Christian bishop to receive the award.
Bishop Rasalam said: "The Metropolitan belonged to the universal church and his contributions to the global ecumenical movement is inestimable. While being a profound global citizen, he was also able to etch a space in the hearts of ordinary human beings beyond the confines of religion."
He was also known for his commitment to welfare projects across India and for his sense of humour.
In his letter, Bishop Rasalam said "Heaven would be rejoicing today- happily receiving the emperor of laughter – and not only the oldest but the biggest Christian leader in the world."