An arts student has recreated the Garden of Eden through taxidermy, portraying what the animals would have got up to the night before humans were created.
Zoey Andreas' stuffed animal artwork has been display at Goldsmiths University in south London and represents the sixth day of creation in Genesis, as well as taking inspiration from Alice in Wonderland and Willy Wonka.
All 28 taxidermy animals were made by Andreas and died naturally or were roadkill. They include four foxes, two rabbits, two squirrels, a woodcock, grouse, rabbits, moles, ducks, hares, a rat, a weasel, a kitten, a toad and a frog.
The animals are positioned at a Mad-Hatter style tea party, enjoying themselves, or curling up in a martini glass. A mole can be seen burrowing out of a sofa, hares relax in a cot and foxes appear in animated discussion around a table.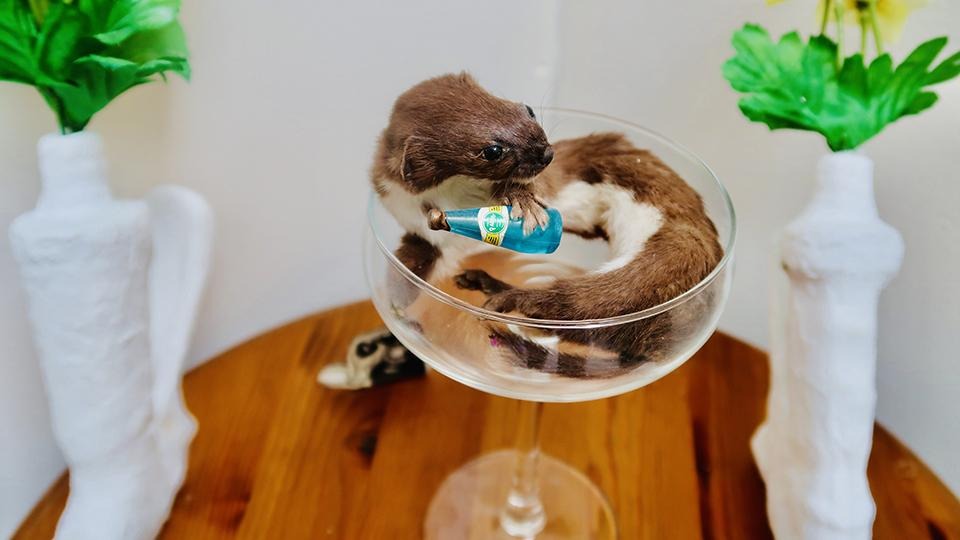 Zoey Andreas, Goldsmiths University
Zoey Andreas said: "The home I have created is a world for the animals, before humans were created by God, with the mind-set of the happy lives the animals would have if humans were not created at all. In the space the animals converse, and plan to change God's mind on his so-called great idea to create the human species.
"A lot of time and planning has gone into the installation, including collecting second-hand and recycled materials. I do my taxidermy at home, on the dining room table mostly. I started migrating to the kitchen and the garden towards the end as I was running out of space. You need access to water to wash the skins after and it can be messy, so it's convenient to do at home.
"The home environment has inspired the warm homely vibe of the installation. I enjoy the process of taxidermy, seeing the animals transformed after cleaning, washing, and presenting - it gives them a new lease of life."