A special gospel song has been written to mark the 18th birthday of one of the schoolgirls kidnapped in Nigeria three years ago.
Leah Sharibu is still being held by an offshoot of the terrorist group, Boko Haram, because she refused to renounce her Christian faith.
She was abducted three years ago at the age of 14, along with 109 of her friends. Five of the girls died on the way to the terrorist hideout. The government eventually released the rest of the girls and they returned home, however, Leah, the only Christian among them, wasn't released.
Dr Khataza Gondwe is Head of Advocacy for CSW spoke to Premier about Leah and her courage:
"She had been asked to renounce her faith as a precondition for her release. She said she could not do that. Her friend said they begged her to actually just pretend to have renounced her faith so everybody could go home together. She told them she couldn't live with herself if she did that. And she was taken before the terrorist leader, who even threatened her with death. And she was crying, but she still wouldn't renounce her faith. And she was made to go and sit with two or three other women who had been abducted slightly later, these were humanitarian workers, one a Muslim, one is Christian. And the rest of them went home. She sent a message to her mother saying that her mother should pray for her that she will hold on to her faith and sustain herself. So that's what happened. And she has not been released since."
Dr Gondwe says nothing has been heard about Leah for more than a year, but her family take strength from their faith:
"Both her father and mother and her younger brother are very broken by this but determined to hold on to keep praying and keep believing that Leah will return."
A global prayer event is taking place over five continents and it is hoped people will pray for Leah and others in her position. And a special Gospel song has been written by the Nigerian Gospel artist, Panam Percy Paul with contributions from Lou Fellingham and Muyiwa among others.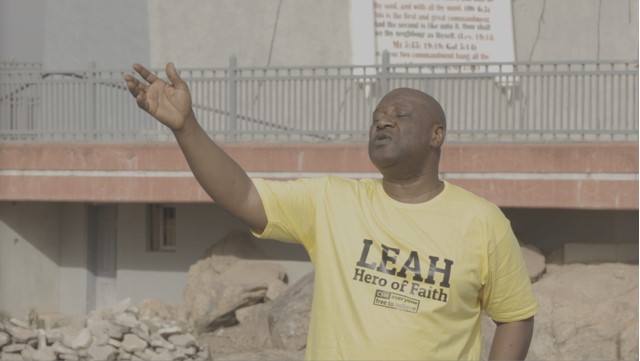 Dr Gondwe says Leah's Christian strength in the face of persecution is humbling, especially for such a young person:
"I mean, she spent her 16th and her 18th birthday in captivity. You know, these are significant birthdays that people mark in special ways. And she's had to spend them in the terrorist hideout. This is a young girl who grew up with, you know, hopes. Just to have that taken away and at just 14. I mean, I can't get over that, at 14 to have the courage and integrity and incredible faith to say, No, I can't deny Christ even though that meant going home and continuing your life."
You can listen to the song for Leah here.