A Polish Catholic church in London is to complain to Metropolitan Police authorities after officers stopped a Good Friday church service.
The Met was called to a report of crowds of people queuing outside Christ the King church on Balham High Road in south London on Friday evening.
In a letter to parishioners on its website, the Polish Catholic church said police had exceeded their powers and that all Government requirements were met.
The church said worshippers obeyed police orders, and the Met said no fixed penalty notices were issued.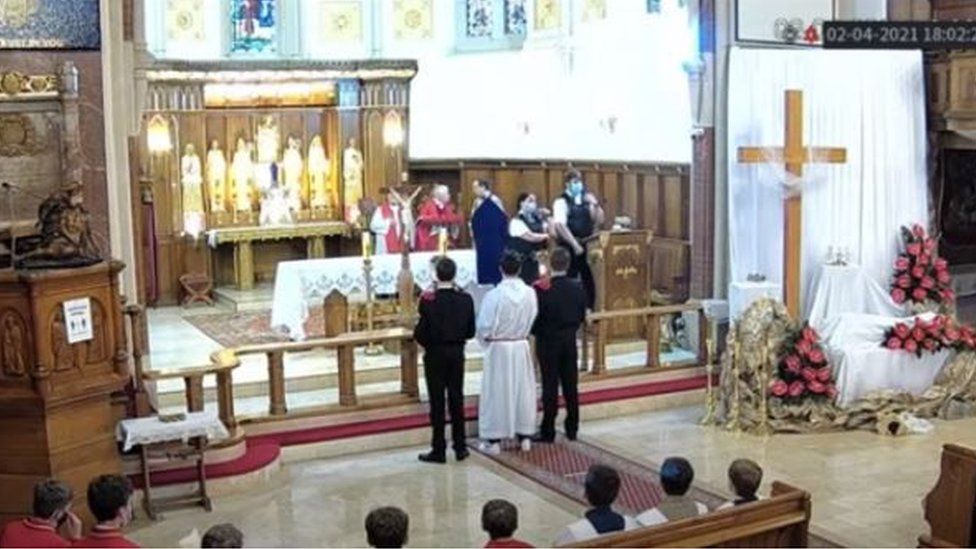 The Archbishop of Southwark, John Wilson, visited the church on Saturday and said in a statement on Facebook: "Officers told parishioners the gathering was in breach of Covid regulations and, if they did not disperse, they would be subject to substantial fines. The Liturgy was terminated and parishioners left the church building. The remaining Liturgy would have taken approximately thirty minutes to complete."
He added: "the Rector of the Catholic Polish Mission, Mgr Stefan Wylezek ... intends to contact the Metropolitan Police authorities about how the situation was handled."
A Metropolitan Police spokesman said: "Officers attended and found a large number of people inside the church.
"Some people were not wearing masks and those present were clearly not socially distanced.
"We are particularly concerned about the risk of transmission of the Covid-19 virus as a result of large indoor gatherings at which people are not socially distanced and some are not wearing masks.
"As such, officers made the decision that it was not safe for that particular service to continue.
"Understanding the sensitivity of the situation, officers engaged with the priest outside the church and were invited inside to address the congregation.
The Met spokesman said this was one of a series of events taking place at the church over the Easter period, adding: "We are engaging with church authorities today and will continue to do so in the coming days."
On its website, the church said all scheduled services over Easter would take place in the order indicated.
The Government website says: "Limits for communal worship should be decided on the basis of the capacity of the place of worship following an assessment of risk."
Additional reporting by PA