The Christian Association of Nigeria has received an apology from the manufacturers of Peak Milk, after it used Jesus' crucifixion as a metaphor to promote its product on Good Friday.
The controversial ad campaign showed a dented tin of Peak Milk pierced on two sides next to a large nail, with the tag line "bruised and pierced for us."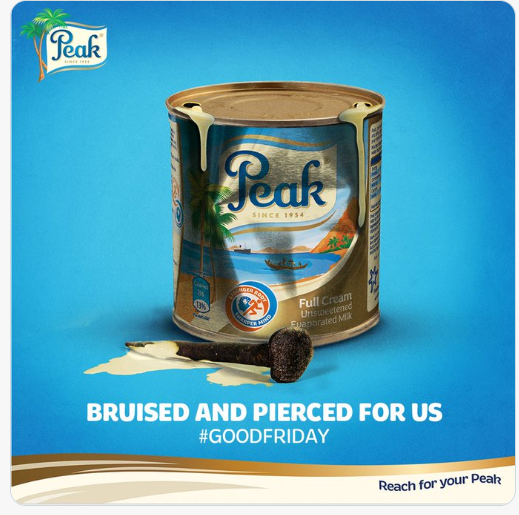 Further campaign posters displayed another dented can of Peak Milk with it's packaging partly removed and the words "stripped of His garment but never of His goodness".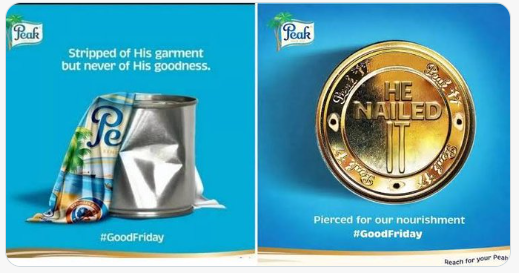 Following its release on Good Friday, CAN General Secretary, Joseph Daramola described the advertisement as "insensitive, offensive, and totally unacceptable".
In a statement he wrote: "Good Friday is a solemn day for Christians all over the world, a day we commemorate the death of our Lord and Saviour Jesus Christ, who was crucified on the cross for our sins. It is not a day to be used for crass commercial purposes."
CAN described the advert as both "disrespectful" and "an affront to the millions of Christians in Nigeria and beyond."
Daramola went on to say that CAN was considering a boycott of the manufacturer and called for the content to be removed.
FrieslandCampina WAMCO Nigeria Plc has since withdrawn the controversial advert and released a statement of "unreserved apology" to CAN and the wider Christian community for the offense it had caused.
"We acknowledge the sensitivity of the social media post considering the sobriety of the season. It was neither intended to make light of the significance of the season nor to inordinately exploit the unmatched sacrifice of Jesus Christ.
"We wish to inform the Christian Association of Nigeria (CAN) that the social media post has since been withdrawn."