Earlier this year, persecution watchdog Open Doors placed the United Arab Emirates at number 47 in its World Watch List which highlights the worst places to live as a Christian.
There are over a million Christians living in the Gulf state, making up around 11 per cent of the population.
Open Doors said that while foreign workers are free to worship in private, preaching along with praying and evangelising in public are banned.
While that may be the backdrop to the situation, leaders there are doing all they can to present a different picture.
Speaking to Premier, the UAE ambassador to the UK rejected the accusations that the country limits religious freedom.
"I strongly reject that," Mansoor Abulhoul (pictured above) said. "We have over a million Christians who live in the UAE. We have 80 places of Christian worship. We had the visit of the Pope. Canon Andy Thompson, who was a vicar here has said he felt it was almost easier being a Christian in the UAE than in the UK."
Last year Pope Francis became the first Pope to visit an area in the Arabian Peninsula. While there he attended an interfaith summit and later led Mass with around 180,000 in attendance.
The invitation was one of many "powerful messages" Abulhoul said the country is sending out to bring about change.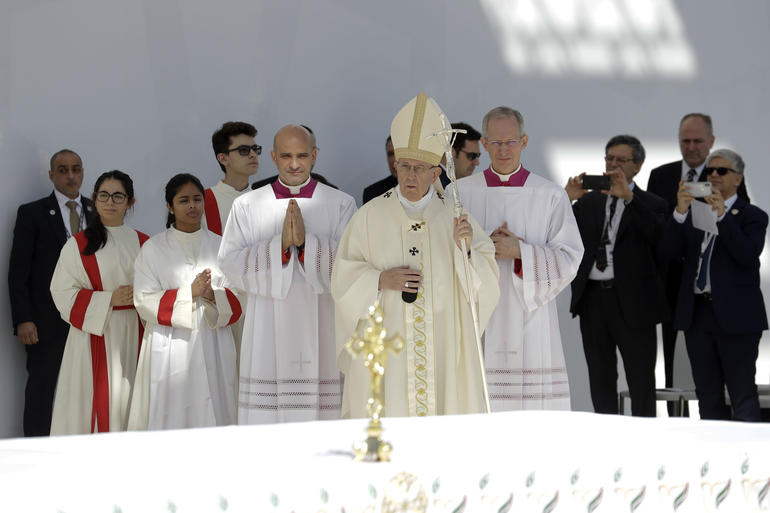 "There was that indoctrination through the region. When we invited the Pope there was some theological beliefs in the region that the Arabian Peninsula shouldn't be touched by non-Muslims.
"That invitation sent a powerful message, broader than the UAE because we already had that cohesion and interfaith understanding and acceptance, but across the whole region.
"When you look at the UAE, we have 200 nationalities, you can freely worship and freedom of religion is guaranteed by our constitution."
The visit was followed up by another very symbolic gesture as the country formed an alliance with Israel.
Brokered by the USA, the Abraham Accord saw the two nations committing to normalise relations and to together look to build peace.
The agreement, Abulhoul said, steps from the country's humble beginnings.
"If we look back to our forefathers, in the desert, it was a place that they very much welcomed people. They had a great expression for humanity and generosity. Based upon that foundation, you now see a very modern, dynamic country when it comes to travel, tourism, finance, and a thriving expatriate community alongside Emiratis. For us that model of moderation and acceptance has always been key to how we've built our nation.
"It's a tough neighbourhood, our region. We're a peacebuilding nation and a big part of the Accord is how we can foster relations and build links and communication so that we can have a more peaceful and more prosperous region."
The next big move for the UAE is the building of a complex which will see three giant places of worship from three different religions standing side by side.
"You'll have a church, a synagogue and a mosque side by side," Abulhoul said. "People can worship alongside each other and also learn about the different religions.
"It's sending another powerful message. If we think in modern history, there's probably been no other Arab Muslim government that has done this. It's in a prime location in Abu Dhabi, a sea front area."
It's hoped the Abrahamic Family House will be finished by 2022. Once built, it will host daily acts of worship as well as being used for international summits.
On paper these "powerful messages", made or being made, look good. The UAE seems to making strong moves to ensure religious freedom for all.
For Open Doors though, the call is for religious freedom - not just for expats - but for all including local people who want to make their Christian faith known.