Franklin Graham's UK tour has been dealt a blow after one of the venues he was due to speak at cancelled the booking.
The US evangelist, and son of the late Billy Graham announced an eight date tour of the country last year.
He was due to visit the ACC in Liverpool on 12th June but the venue says that now won't happen because of the "divisive impact this event is having in our city".
A petition was launched against his visit, while the city's Anglican bishop Rt Rev Paul Bayes has spoken out against him.
Concerns relate to Graham's links to comments previously made about homosexuality and Islam which have been deemed "hateful".
Questions have also been asked about his links to US President Donald Trump
In a statement, the ACC said: "Over the past few days we have been made aware of a number of statements which we consider to be incompatible with our values.
"In light of this we can no longer reconcile the balance between freedom of speech and the divisive impact this event is having in our city. We have informed the organisers of the event that the booking will no longer be fulfilled.
"We are proud to represent all communities and will continue to move forward with our aim as a business to drive profile, major events and economic impact for Liverpool City Region."
Franklin Graham held a succesful mission event in Blackpool in 2018 in which thousands heard him preach.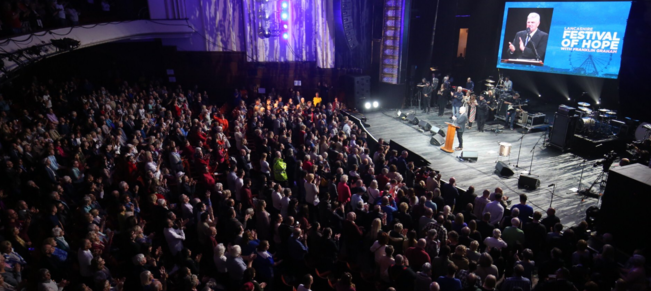 However that visit was met with opposition with a number of MPs calling for him to be denied entry to the UK, labelling him a hate preacher.
Bus adverts for the event were also banned.
Speaking to Premier before the event, Mr Graham said: "I don't think I've been to any country where everybody was supportive - there's always churches or groups who don't like my theology or that we associate with this group or that group.
"I'm not coming to preach hate, I'm here to preach about a saviour - Jesus Christ who can make a difference in our lives if we put our faith and trust in him."
With his UK tour just months away, the booking of London's O2 Arena is also in doubt.
Despite originally advertising his appearence there on 4th October, current publicity simply states TBC.
The tour is being organised by the Billy Graham Evangelistic Association. Premier has contacted organisers and is waiting for a response.