A member of the Billy Graham Evangelistic Association Rapid Response Team (BGRT) has told Premier she believes "families need to be prayed for" as it will be "a long waiting game to wait for closure."
Chaplain Michelle Gawlinski was speaking to Premier as rescue efforts at a partially collapsed Florida apartment building have been halted due to concerns about the stability of the remaining structure.
On 22nd June, a wing of a 12-floor, beachfront condo building collapsed in Surfside, a town outside Miami. At least 18 people have been confirmed dead so far and 145 are still missing.
"The families are really going to have to be prayed for and followed through with. I know a lot of times, disaster ends and it's done. But this is something that's going to be here for quite a while, for the long term.
"The officers, the rescue teams definitely need to be prayed for. There's a lot of them that've been here since it started. They sleep in tents outside, they are 12 on 12 off, they're exhausted, you can see the exhaustion.
"But they want to be here, they want to have that hope. They want to be able to rescue if there is a rescue, they want to do it, they won't stop," Chaplain Gawlinski continued.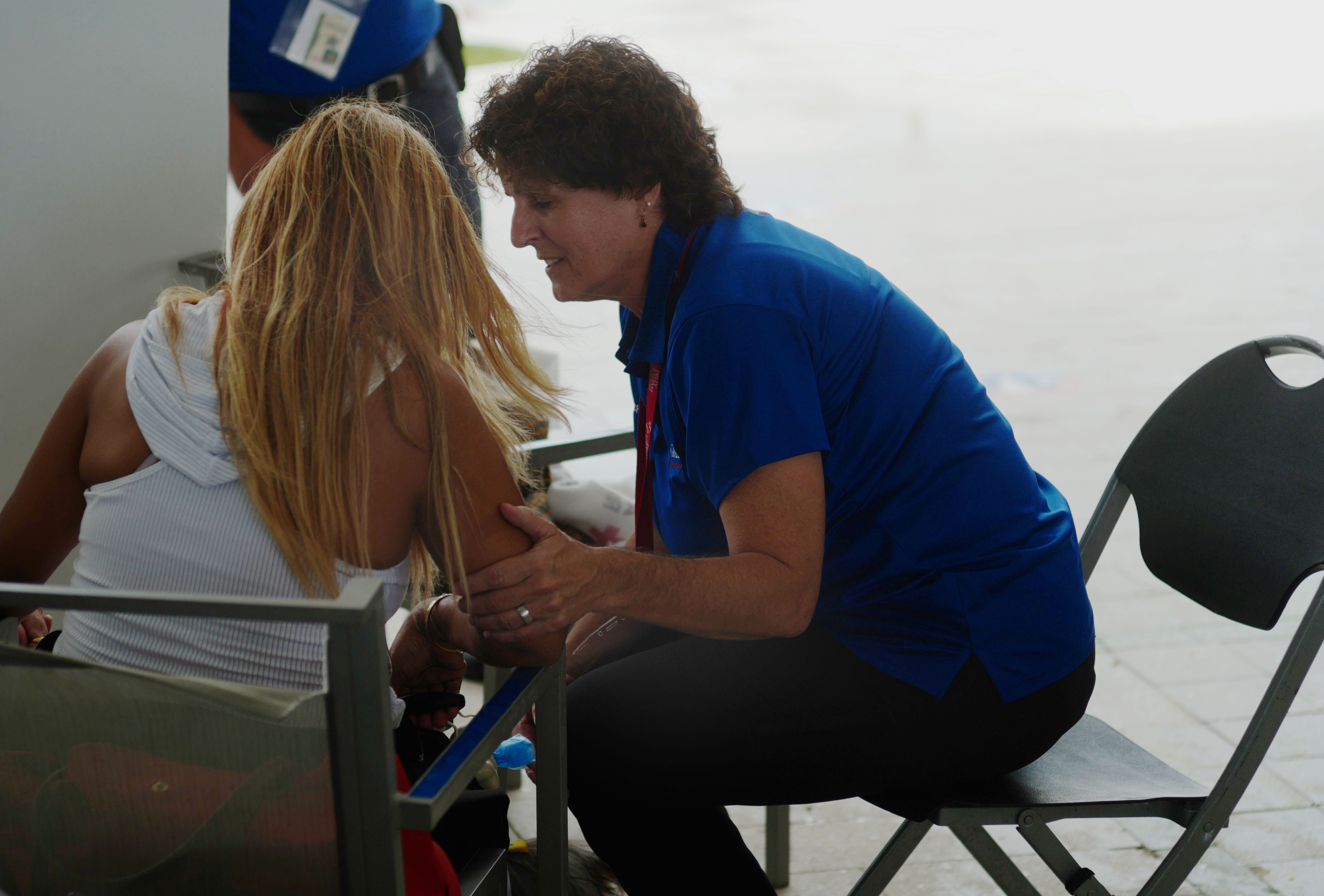 Rev Gawlinski praying for families
The Billy Graham Evangelistic Association Response Team is a group of crisis-trained chaplains normally deployed to serve those affected by disasters.
Many religious organisations, from the Jewish community to Catholics and Evangelicals, have come together to provide food and spiritual care to those families affected. Rev Gawlinski went on to explain what they have been able to do so far.
"It's really a ministry of presence. When they come up to us and ask us anything, there's no really no words we can give at this point. It is just that we're here. We listen. And I think 90 per cent of what we do is we're just here to listen and to pray. We hear their stories. They show us their pictures of their loved ones and they're waiting and hoping to have an outcome It's a waiting game for them."
During a meeting with families on Wednesday, Miami-Dade Fire Rescue assistant chief Raide Jadallah said officials are concerned about the stability of part of the building.
"What we know is that the columns on the east side of the building are of concern, not compromised, but just right now of concern," Mr Jadallah said. "Hypothetically, worst-case scenario: if these columns are truly really bad, we are worried they could collapse right back into the parking garage."
A donation page has already raised more than $1 million for the families of the victims.

Additional reporting by PA