At six foot two and weighing over 20 stone, there aren't many bigger athletes in the world of sport, but it's his success on the pitch that have made rugby player Billy Vunipola one of the biggest names in the game.
Born in Australia to Tongan parents, Vunipola moved to the UK as a young child and has gone on to represent England over 50 times.
He recently competed on the grandest stage of all, starting in the World Cup final where his adopted country were edged out by South Africa.
A career which has been dogged by injury and few off the field misdemeanours, Vunipola is back on track with his Christian faith very much the driving force in his life.
It was that faith which helped him through the disappointment of that World Cup defeat.
"I guess God's trying to test my faith - not just when everything's going well," he told Premier, moments after finishing a training session with his club side Saracens. "When we lost the final, in my head, I was asking what lessons do I need to learn from this and [the answer] was to be grateful for the position that I was in and have that contentment that I was very lucky to be one of the 30 that was on the pitch. That's what I took away from it because of the foundations that Jesus has put in my heart."
It's been a strange year on the pitch for Vunipola. While the season started with the highs, and eventual low of the World Cup, he also saw his club relegated from the Premiership for a series of financial wrongdoings. Then there was the small matter of coronavirus, which stopped short the season.
"There's more important things going on in the world for us to complain about," he says about the current situation.
The rugby season will restart later this month, but players will compete in empty stadiums, with fans banned from watching due to the pandemic. With clubs hit financially, due to a loss of income from ticket sales, players have also been required to take 25 per cent pay cuts.
"Not having a crowd or not being paid what we should be being paid...we're way better off than a lot of people out there so we've got to be thankful for the situation that we're in. There's nothing for us to complain about."
Vunipola is revered across the world for his sporting abilities, but remains grounded. Something he puts down to his Christian beliefs.
Faith was something pushed on to him as a child. With his mother a church minister, it wasn't a matter of choice. However he says it became a personal decision as the struggles of life came his way.
"To start off, we didn't enjoy going to church. We were made to as kids, but the older I've got and the more responsibilities, like your house, your wife, your kids - you find that the only person that can help you carry those burdens or ease those stresses in life is God."
"I know that sounds a bit shallow but that's kind of why I started searching for God because the more I went looking for God in Bible, the more peace he gave me with things in my life, especially my injuries."
Vunipola recently saw his Christian belief become a talking point in the mainstream media after he defended fellow Christian rugby player Israel Folau, who was sacked after writing a post on social media about sin and hell.
While Folau received much abuse, the vitriol was later moved to Vunipola after he 'liked' the post and then posted himself stating: "There just comes a point when you insult what I grew up believing in that you just say enough is enough."
He then used a social media post to explain the role of sin and God's forgiveness. His words saw him disciplined by his club and country.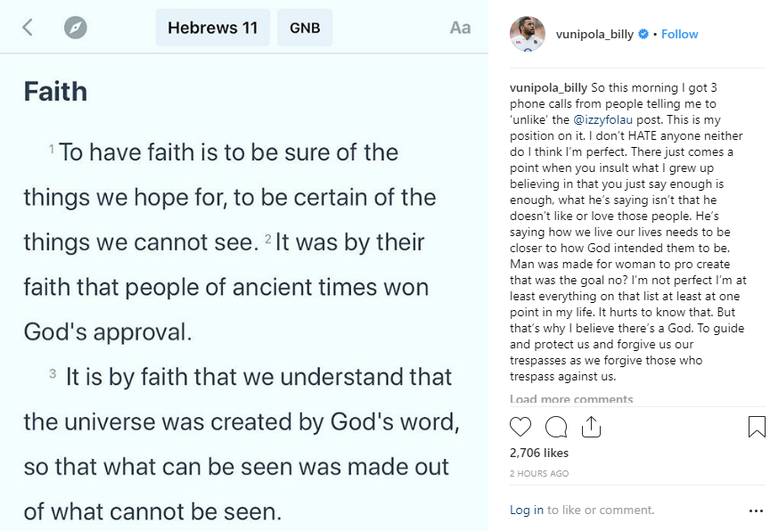 Vunipola tells Premier, at this stage in his life, he's keen to make sure people know about the hope that comes through Jesus - something he struggled to make know early in his career.
"God put me in a position to spread his word, and I didn't do that, which is what I'm trying to do now."
"I've definitely had more people asking me questions as to why I have such a strong faith and why I'm willing to stand on my own in certain situations, because of my faith. It's nice to share it with other people and for them to ask questions."
Vunipola recently shared his testimony with Creation Fest online and now serves as an ambassador for Christian charity Tearfund.