The Right Reverend Peter Eagles, The Lord Bishop of Sodor and Man, has retired from the role after nearly seven years in the post.
He and his wife Gail are relocating to southern England to be closer to family.
The couple's decision was announced in March. In a statement at the time Bishop Peter said: "There is rarely a good time for a bishop to step down from the ministry of care for a diocese, but, continuing to discern my vocation in the light of God's will, I believe that now is the right moment."
As he informed the diocese of his plans, he also wrote of his confidence in a strong future ahead of them: "God has called a number of outstanding people to this diocese, and for that I can only be thankful.
He was consecrated by Archbishop John Sentamu at York Minster, in 2017.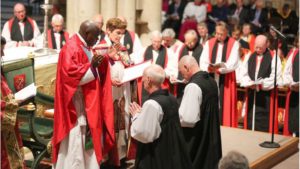 His wife Gail accompanied Bishop Peter in walking down the aisle at his enthronement service in Peel Cathedral, emphasising they were coming to serve as a team.
The couple are pictured here at Bishop Peter's consecration service.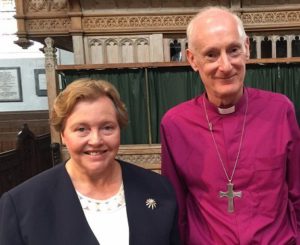 Gail also served the diocese in a variety of ways, and was diocesan president of the Mother's Union from 2019 - 2021. Gail has also provided pastoral support to clergy spouses across the Island, as well as running what the diocese described as "a rolling programme of hospitality".
During his tenure as the 93rd Bishop of Sodor and Man, Bishop Peter has overseen a stabilisation programme to reposition the work and focus of the Diocese.
The diocese acknowledged he had been part of many extraordinary moments and has led them through a series of key events; most recently the pandemic during which clergy and laity in churches across the Diocese supported their local communities in "many creative ways".
He marked his final Sunday in the diocese on 22nd October, at St. George's Church in Douglas, where he had the privilege of awarding the Bishop Wilson Medal to Ernie de Legh Runciman in recognition of his exceptional Christian service to the parish, the diocese, and beyond.
The Right Reverend Mark Davies, Bishop of Middleton in Manchester Diocese will have oversight of the diocese during the interim, until a new incumbent is appointed.