Christian climate campaigners took over St Paul's Cathedral on Sunday to protest against the Church of England's investments in fossil fuels.
Protesters, which included members of clergy, are urging the Church to divest from fossil fuels during 2021 to help tackle the climate crisis.
Immediately after Communion at a Eucharist service, a group processed to the altar and faced the congregation holding banners with the words: 'No Faith in Fossil Fuels' and 'Churches Divest Now'. Around 50 people also gathered outside the Cathedral with banners showing the same messages.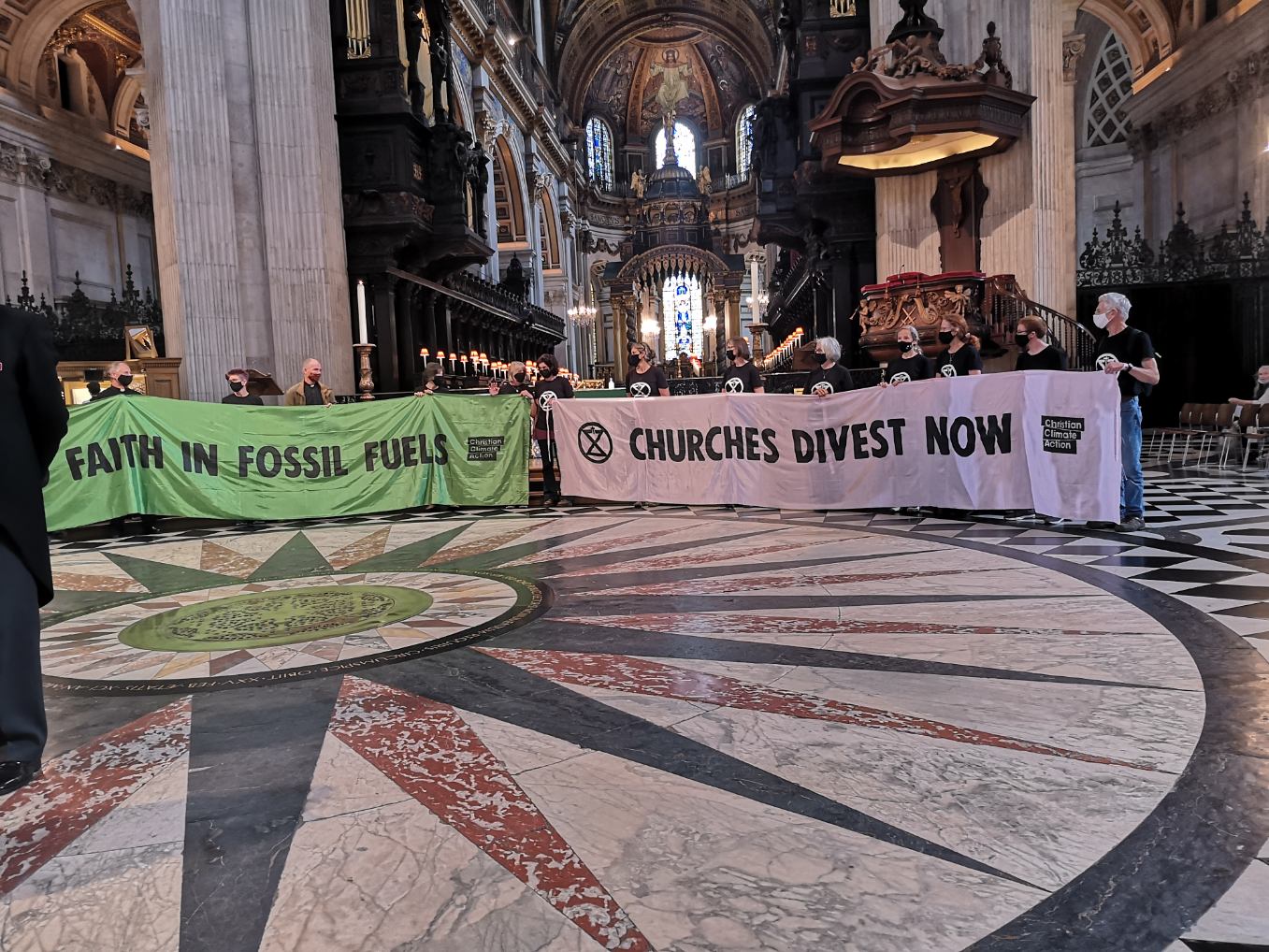 According to Christian Climate Action, it is estimated that the Church of England dioceses, Church Commissioners and Pensions Board currently hold investments worth £70 million in fossil fuel companies. To date, just three out of 42 dioceses have announced divestment plans.
Rev'd Canon Jonathan Herbert, one of those involved in the protest, said: "The Church Commissioners and Pension Board rightly don't invest in companies producing arms or tobacco, but surely investing in fossil fuels, with what we now know, is almost as deadly. It's time for the Church Commissioners to take a lead and divest from death dealing fossil fuels."
In 2018, the Church of England National Investing Bodies (NIBs) committed to divest from fossil fuel companies not aligned with the goals of the Paris Agreement by 2023. Since then, the NIBs have restricted investment in nine companies and at least 12 have made changes to meet the NIB's climate change hurdles.
But while those taking part in the action at St Pauls acknowledged the Church Commissioners' steps to divest from fossil fuel companies, they contend that companies like Shell are still committed to future fossil fuel exploration and that there are very few signs that they will align themselves with the Paris Agreement.
The Christian Climate Action group is also asking the Church to urgently speak out for immediate action to prevent irreversible climate impacts and ensure a liveable planet for all of God's creation.
Rev'd Tim Hewes, 71, who earlier this month sewed his mouth shut in protest, said: "The Pensions Board and the Church Commissioners, by investing in fossil fuels, mistakenly believe that they can steer these all-powerful companies towards climate friendly policies. After years of engagement, we know it's not working. These companies are deaf to the entreaties of the church. We need to divest."
Earlier this year, several church groups and individual churches decided to stop investing in fossil fuels, including the Church in Wales, the Catholic Diocese of Hallam and the General Assembly of Unitarian and Free Christian Churches.
The Quakers, Church of Ireland, United Reformed Churches, Methodist Church and Church of Scotland have also committed to divest from fossil fuels.
Fourteen people were arrested by police in the cathedral.