A former government minister and current MP in Finland has formally been charged over a tweet she posted about homosexuality.
Päivi Räsänen is accused of inciting hate towards a group of people.
Back in 2019 she posted a picture of her Bible open at Romans 1: 24-27 which describes homosexuality as 'shameful'. In the post she questioned the decision of the Evangelical Lutheran Church in Finland, of which she was a member, to support a local gay pride event.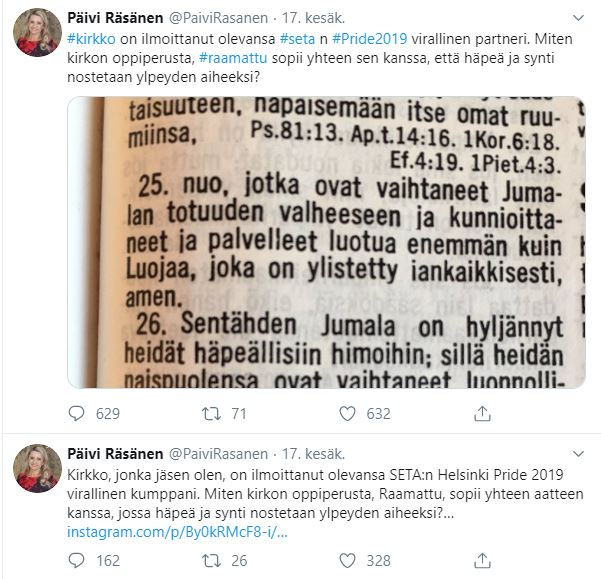 Following complaints, she was questioned by police and an investigation was launched into her actions.
The results of that action have led to her being charged over the tweet as well as comments she made on TV in 2018 and a pamphlet about marriage which she wrote in 2004. All charges are linked to 'hate speech'.
In a statement, Finland's prosecutor general claimed the MP's actions were derogatory and discriminatory while her statements had violated the equality and dignity of gay people.
Vowing to fight the charges, Ms Räsänen said: "I will go to the court with a peaceful and brave mind, trusting that Finland is a constitutional state where the freedoms of speech and religion, which both are guaranteed in international agreements and in our constitution, are respected.
"A conviction based on the Christian faith is more than [a superficial] opinion. The early Christians did not renounce their faith in lions' caves, why should I then renounce my faith in a court room.
"I will not step back from my conviction nor from my writings. I do not apologise for the writings of the Apostle Paul either. I am ready to defend freedom of speech and religion as far as is necessary."
The politicians is being supported by religious freedom organisation ADF International.
Raising concern over the charges, executive director Paul Coleman said: "Freedom of speech is one of the cornerstones of democracy.
"The Finnish Prosecutor General's decision to bring these charges against Dr Räsänen creates a culture of fear and censorship. It is sobering that such cases are becoming all too common throughout Europe. If committed civil servants like Päivi Räsänen are criminally charged for voicing their deeply held beliefs, it creates a chilling effect for everyone's right to speak freely."
Päivi Räsänen trained as a doctor before becoming an MP in 1995. From 2011 to 2015 she served as minister of the interior, serving within the Finnish government.