A church in Weaverham, Cheshire, has created a 'Covid Corner', a space to reflect on the positive and negative experiences of the coronavirus lockdown.
St Mary's Church hopes to encourage members of the church and the wider community to come and write down their experiences in a Memorial book.
The 'Covid Corner' features a stained-glass window which reminds people to be thankful to the NHS, food banks and food deliveries, vaccines and the church and community.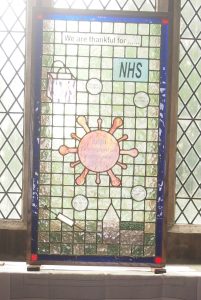 A book of reflections where people are invited "to add anything you wish about Covid (including photographs)" is also available.
"You might wish to write a poem, say a thank you, write about a new experience during lockdown, add a photo of a lockdown craft project, add a newspaper cutting or even leave a CD or DVD. Anything you like as long as it can be put in the books," the church said in a statement.
It continued: "The books are intended to contain contributions from the whole community, so please invite other people to also contribute."
The church is open before and after the 8.30am, 10.30am and 6.30pm Sunday services and from 14th August, it will be open on Saturdays from 10am until noon.