Churches across the country are opening their doors to welcome holidaymakers looking for a unique place to stay.
The popular trend known as 'champing' invites guests to camp overnight inside a local church and enjoy its stained glass windows and historical architecture.
The Churches Conservation Trust (CCT) launched the scheme in 2016 and says it is helping display the Church to a new audience. Spokesperson Fiona Silk told Premier this is down to its widespread appeal.
"It appeals to so many types of people, those who want to experience something different, people who haven't set foot in a church for years, those attending a wedding or funeral, it appeals to all faiths as well. So, literally everybody, all generations."
CCT care for redundant churches as well as partnering with active places of worship. There are currently 18 historic churches across England available for champing, seven of which are active churches, where you are welcome to join their Sunday services following your stay.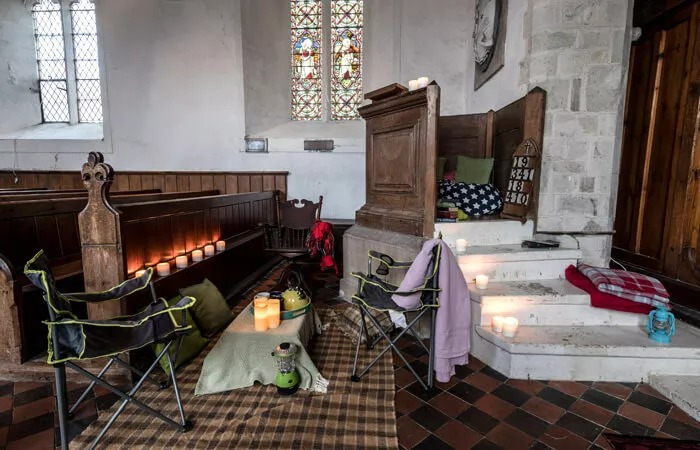 The sites range from a church which inspired the opening chapter of Great Expectations to medieval buildings in quiet villages.
Describing one of the locations, St Mary the Virgin in Fordwich, Kent, Silk said it can offer a peaceful atmosphere for people: "We like to make it very welcoming for everybody, to open that big wide ancient door you see fairy lights, you see cushions, cosy place for chairs and camping area and camping beds as well. It does create a cosy space.
"Having those solid walls around you can create such a sense of peace you also have such a quiet time within that church, you close that ancient door and you don't have any sound at all."
Silk said 'champing' creates more sustainability for churches whilst also fulfilling a mission of increasing a churches audience.
Last year champing sites generated record income for the charity and it now plans to expand the business, adding a further 12 churches to its catalogue.