The lawyer who risked his life to defend Asia Bibi, a Pakistani Catholic woman who faced death for blasphemy against Islam, has told Premier how he lost many friends but has taken up another similar case
Asia Bibi was freed last year after a decade long battle trying to avoid punishment for saying that Jesus was the only one that could save souls.
Lawyer Saif ul Malook stepped in after two people were killed for expressing their support to her in the largely Muslim country. He prosecuted the culprit of one of them, which led him to Asia's case.
On a trip to UK this week, Malook met with the former Archbishop of Canterbury, Dr Rowan Williams, to bring the case of Shegufta Kausar to his attention, a Christian woman who is accused with her husband of sending blasphemous text messages to an Islamic cleric.
Saiful Malook on the right, with Rev Rana Khan and Premier's Cara Bentley on the left.
He is hoping that Shegufta's imprisonement will not be so long and that the UK will offer her asylum once she is freed, unlike they did for Asia Bibi.
Speaking to Premier, he described Asia's faith: "She was an exception. I've practised for 38 years in the criminal law...but whenever I went to meet her she was as if I was meeting her in her house, happy, comfortable, no pressure, no demoralisation. I asked her: 'Are you not feeling anything?', she said: 'No, I believe in Jesus Christ and I'm so certain that nothing will happen'. That's what she always said."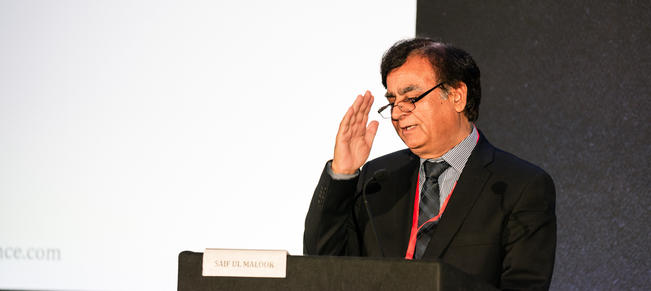 Malook, who is a Muslim, said: "I've never seen any Christian I came across with such a strong faith. The woman has not been to school for one day, she can't write her name, she can't read the Bible, she can't read anything. Having such a strong faith, maybe she's a woman of God who's very special."
He explained that he once went to bring her morale up and joked that when she was acquitted she would be whisked away in the American President's plane, to which she replied she would take him with her.
Once Asia was acquitted, there were protests in the streets, calling for everyone involved to be killed. Malook fled to the Netherlands but returned to handle her appeal case.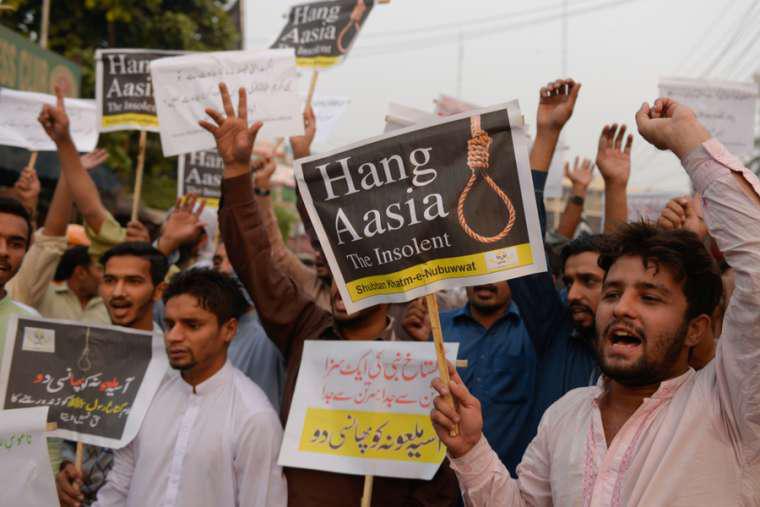 "They're after my life," he told Premier, "my fellow lawyers, most of them hate me, many don't talk to me. One day, I was in Islamabad and had to go back to Lahore and I didn't have my own vehicle. So I phoned a friend I said 'are you in a vehicle?', 'yes'. 'So, when are you leaving? Say about one?' I said, 'did you have one seat spare?' He said 'yes'.
"I said, 'Take me as well'. So when the time came close, he came to me with a low face. He said, 'Sir, I'm sorry but I can't take you anymore.' He said 'there are two other lawyers with me. They say do not put him in the car because he's going to be killed as Asia's lawyer and then we shall be killed with him.'"
Another time, a new neighbour moved into his area and he sent twenty message offering to meet. Malook was told that the neighbour had said they didn't want to meet "this infidel" who is "supporting the woman who is abusing the Prophet Muhammad."
When people ask him why he doesn't just relax or take up an easier job he replies: "I prefer to lose my life, defending these poor Christians."
He now lives with almost constant security, can't go to public restaurants and has to use extra caution wherever he goes.
When asked what world leaders could do to help Christians in Pakistan, he recommended western governments be more prepared to take young Pakistani Christians in at universities.
"I think the Christians in Pakistan, have two main problems, one - that they're not wealthy. They're poorest in all the minorities in Pakistan. The Ahmadiyya are the richest, even before they became declared as a minority, they were working on very, very high posts like generals, ministers and secretaries of state. Same as the Hindus, they have land, they have lots of industry and business. Same as the Sikhs - and only the Christians are persecuted
"The second is that they don't have the education. I'm asking around the world, to the Christian world, that they help these Christians by taking them as children, to put them in a good European, western school and I think that will be a total resolution of all problems for Christians - if 10,000 students, at least, are made PhD doctors."