Sadiq Khan has praised church leaders for providing hope and leadership throughout the Covid-19 pandemic.
Speaking to Premier Gospel, the mayor of London urged listeners not to go on protests in central London this weekend for Black Lives Matter events because of the "trap" being laid by far-right groups and the likely spread of coronavirus to relatives back home (video below).
Coronavirus hit London particularly hard in the early stages of Covid-19 in the UK, with NHS staff re-deployed all over the city and the Nightingale hospital being prepared in East London.
The London mayor praised the support he has received from faith leaders in the lockdown, saying "I should talk about the massive contribution over the last 13 weeks the leadership of the Christian community has provided. I've spent some time talking to the Archbishop, but also Bishop of London as well as Cardinal Nichols and a number of other faith leaders in the Christian community."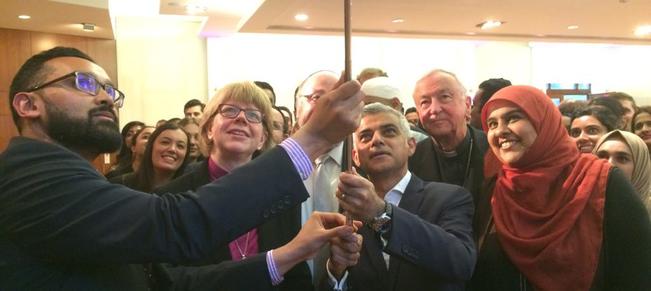 Bishop of London, Rt Rev Sarah Mullaly, and the London College of Bishops responded to the early rise of the virus in the capital by asking all churches in the diocese to close their buildings for all entry, not just Sunday services.
Khan commented: "I've been so impressed by the leadership role they've played at this time of this global pandemic. I'm particularly keen to see from them going forward, how they can continue to advise us, particularly around the transition phase and then the recovery phase. As we come out of this pandemic, what I'm looking for is hope and optimism."
He added that he thinks the church will continue to be a needed ally in the city: "The Christian faith has had a rich history and experience in dealing with pandemics and plagues and issues that can grip society and a community. Their wealth of experience of how we come out of it, how we give people hope, how we have a new normal that's better than what went before it is so important. I'm looking for that sort of advice from colleagues in the Christian community in the near future."
Churches were allowed to re-open in England this Saturday for individual prayer but communal worship will return no earlier than 4th July.
The mayor explained: "We don't inadvertently rush towards congregational prayer that could lead to a second wave, but I've nothing but gratitude for the fraternal way the Christian community works with me and I'm looking forward to that continuing going forward."