The BBC newsreader Huw Edwards says Britain's organs are cultural glories and that vandalism and abandonment in discarded chapels means society is losing connections with its ancestors.
As the Vice-President of the National Churches Trust, Mr Edwards said in the charity's annual review: "The installation of high-quality organs in villages, towns and cities throughout Britain is truly one of Britain's cultural glories. For some years, this rich heritage has been casually thrown away as places of worship close and the contents are stripped for cash. That process has now gathered momentum as the rate of closure of chapels and churches has soared."
Edwards, who plays the organ himself, has urged people to support the maintenance of old buildings so that society does not lose its connection with the past.
"The truth is this. Just as some church or chapel buildings are notable for historic or cultural or architectural reasons, so, equally, are parts of the fabric of those very buildings. And just as many of our religious buildings were built with the pennies of the poor, so, equally, were some of the handsome instruments installed to enhance the music and the quality of the congregational singing in particular."
"This is a vitally important part of our cultural story. These church and chapel organs are a direct link with previous generations - our ancestors - whose cultural values and priorities are reflected in the buildings they funded."
The broadcaster also speaks about his own regret that he did not focus on playing the organ more, saying: "I learned to play the organ from the age of 16. My piano teacher, Idris Griffiths, was an excellent organist who refused to introduce me to the organ until I had passed my Grade 6 piano. My greatest mistake was not switching entirely to the organ at that point. I kept my focus on the piano and squeezed in some organ lessons when I could. I regret that decision to this day, but I have still enjoyed playing the organ over the years."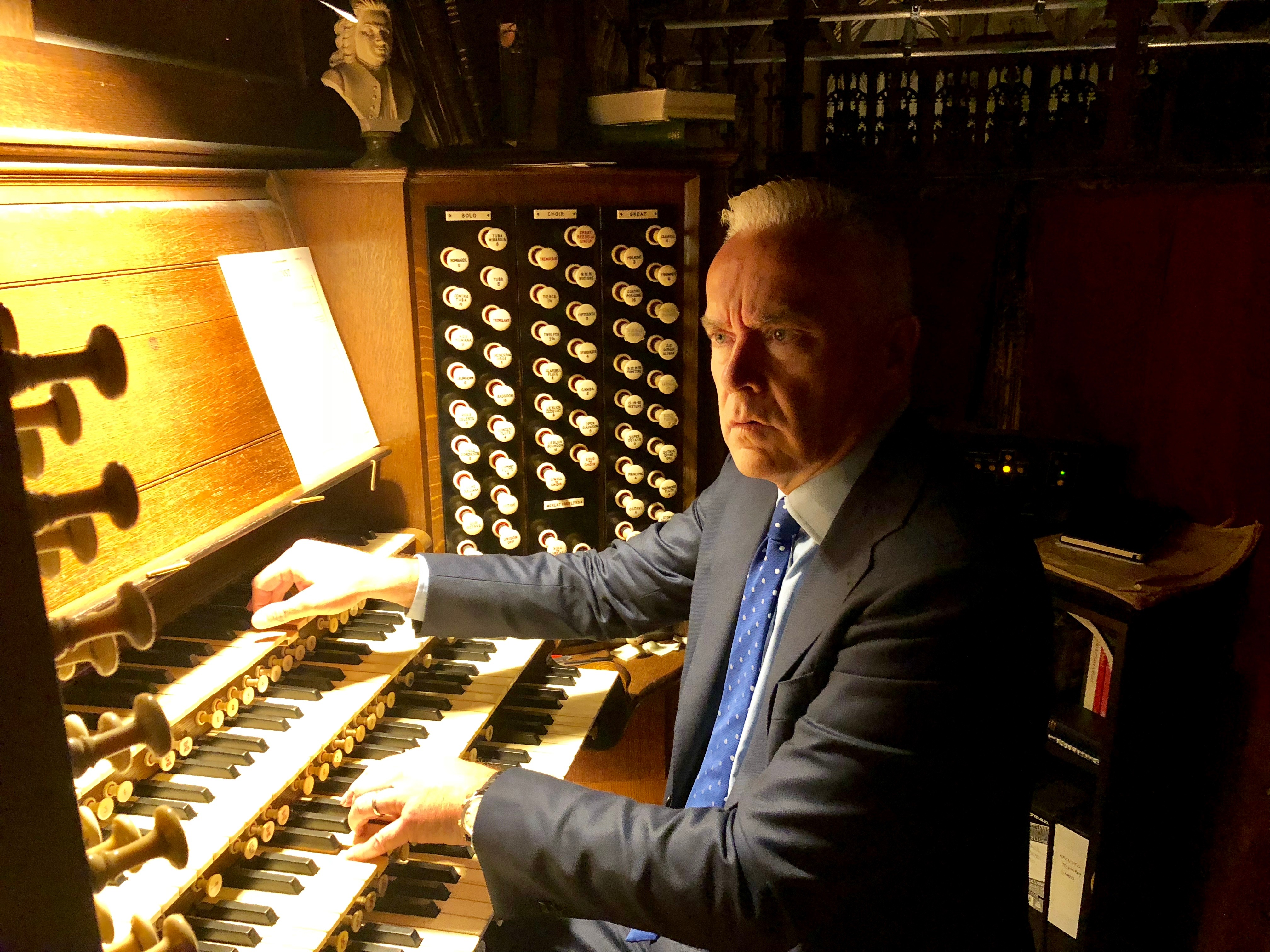 Huw Edwards, credit National Churches Trust
The National Churches Trust, which Edwards support, awards grants to church buildings and helps keep them open.
It gave 259 grants to churches and chapels totalling £1,718,419 in 2020.
26 churches were removed from Historic England's 'Heritage at Risk' register through the grants and 40 per cent of grant money supported places of worship in the most deprived areas of the UK.
Through a report into the economic and social value that church buildings generate, the Trust has proved that their value to society is is at least £12.4 billion per year, which averages around £300,000 per church - roughly equal to the total NHS spending on mental health in England in 2018.
'The House of Good' report predicts that £10 invested in a church building creates a social return of at least £37.40.
Luke March, chairman of the National Churches Trust, said: "Our work keeps churches in good repair so that the magnificent ecclesiastical heritage we see from Cornwall to Northumberland can be safe for future generations. "
"We also want to make sure that church buildings can continue to be 'Houses of Good' and we continue to provide funding to install loos and kitchens so that places of worship can better respond to social need."
For the full article by Huw Edwards, click here.