New research has highlighted why young people in supported housing are struggling to transition into home of their own.
YMCA England & Wales has published a study that reveals 70 per cent of young people in YMCA homes were ready to move on but remained in supported accommodation.
The Christian charity surveyed 268 16 to 34-year-olds in 2018 who were living in YMCA accommodation across England and Wales. It then re-contacted this group with a short survey between September to November 2020, focusing on their challenges with regards to moving on.
The findings revealed that an inability to save, lack of affordable housing and discrimination in the private rental sector were the main reasons given for why they were unable to move on from homelessness.
Liam Preston, head communications at YMCA England & Wales, told Premier the housing issue triggers even more problems.
"Our job is to get them in, build their lives back up, getting them back into training or education, and when they're ready to leave, for them to go," he said.
"One of the challenges is, if you're not able to move them on at an appropriate time, or when they're ready, it almost creates something called a bed blockage. What it means is we're not able to bring young people in because there's somebody already in that bed.
"We do everything we can to make sure we never have to turn a young person away. But across the sector and across YMCAs, there is this challenge that we need young people to leave our accommodation when they're ready and we're struggling to do that at times because of the systems that are in place."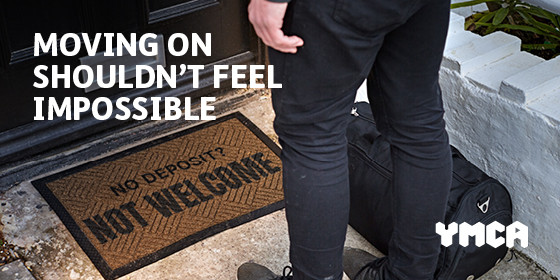 The YMCA, which provides a bed for 8,800 people each night, and most young people in supported housing rely on welfare benefits to cover the cost of rent and everyday living, leaving little or no money to put aside for deposits and upfront costs associated with private renting. Forty-nine per cent of young people said not having enough money saved impacted their ability to move on.
Meanwhile, for those in employment, the YMCA said starting work is often associated with piling debt because benefits are taken away. Almost all of the young people the charity spoke to said they were getting into debt after starting work due to the immediate removal of Housing Benefit or Universal Credit, because of a delay in receiving their salary.
The research also found that for those who are able save money private renting is still unaffordable and unreliable. The charity explained that private landlords can be reluctant to take on young people as tenants, often requiring guarantors and additional checks which can be incredibly difficult for those in supported housing. Forty-one per cent of young people told YMCA that landlords being unwilling to let to them was the main external aspect preventing them from moving on, topped only by the cost of rent and deposits.
The YMCA has urged the Government to intervene to stop financial and social barriers into independent housing.
Denise Hatton, chief executive of YMCA England & Wales said: "With personal, financial and social obstacles piled in front of them, homeless young people need a welfare system which is designed to support them not hold them back. If the Government continues to ignore the faults within the system, they risk trapping young people in an endless cycle of homelessness, ultimately becoming stuck, disheartened and further isolated by the insurmountable challenges they face."
The organisation said the Government can help by increasing the amount of benefits received while trying to move on from supported accommodation. It said, for those in employment, they should be allowed to retain more of what they earn as they start to increase their hours, thereby providing a hand-up in moving on.
The YMCA is also urging the public to show their support in bringing this to the attention of Government by signing a petition.
Listen to Premier's interview with Liam Preston here: