After being diagnosed with stage four skin cancer, a vicar from Essex has written a song featuring the noise from an MRI machine.
Rev Matthew Simpkins is priest-in-charge of Lexden in Colchester, and continued to serve during his year of treatment.
The 44-year old was first diagnosed in 2019, resulting in his toe being removed, and then was diagnosed a second time in 2021.
He then endured a year of immunotherapy and five biopsies.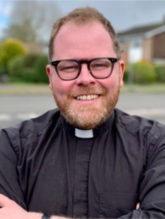 (Photo courtesy of Church of England)
He told BBC News, "I thought the way I am going to get through this is by writing a song during this scan."
"When the machine started, I thought I've got a choice here - either I'm going to lose it or I'm going to have fun with it, if that makes sense?
"I'm in a difficult situation with stage four cancer, but again, you've got a choice and this song is a good example of that - how you can take something up into song and live."
He downloaded the sound effects off the internet and set to work layering the audio.
"Spooling" – as the track is now known – is now the first single produced by Rev Simpkins' band, Pissabed Prophet.
Mr Simpkins added: "It would be great if people who are feeling nervous about a scan might hear the track - maybe it will be a bit less scary when you see a hairy vicar sing a song about it."