The UK Supreme Court has turned down an appeal on London's first ban on people standing near an abortion clinic, praying or protesting.
The abortion clinic in Ealing was the first in the country to introduce a buffer zone around its building in April 2018. This was challenged by pro-life groups who said it criminalised prayer and the opportunity to offer women support when they felt a termination was their only option.
Ealing council said it was implemented: "following concerns raised that those attending the clinic faced harassment and intimidation from groups who positioned themselves outside the clinic."
Ms Dulgheriu, a local mother, challenged Ealing Council's PSPO at the High Court.
She gave birth to her daughter after receiving support outside an abortion facility. The High Court found that the censorship zone impacted fundamental rights but ultimately decided the PSPO was justified and ordered Ms Dulgheriu to pay Ealing Council's legal costs.
The Court of Appeal then agreed to review the High Court's decision but dismissed the appeal
Ms Dulgheriu appealed to the Supreme Court and this appeal has now been rejected.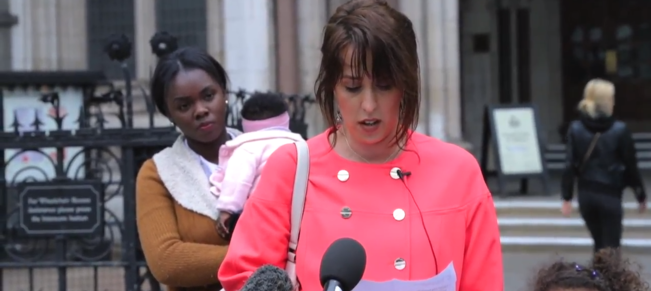 Alina is now considering whether to take the case to the European Court of Human Rights in Strasbourg.
The PSPO criminalises any act of approval or disapproval regarding abortion, prayer or counselling, handing out leaflets, offers of practical support to women and any 'interfering' with a clinic user.
You can read the full rules here.
Reacting to the decision, Alina Dulgheriu said: "I am devastated to hear that the Supreme Court has decided not to consider my appeal. My little girl is here today because of the practical and emotional support that I was offered outside a Marie Stopes centre, and I brought the appeal to ensure that other women did not have this vital support option removed.
"It is unthinkable that any council would criminalise an offer of help to a woman who might want to keep her child. Ealing Council could have taken action in a way that would have safeguarded the essential help offered at the gate. Instead, they made charity a criminal offence and removed dedicated and caring individuals from public space without justification."
Elizabeth Howard, from pro-life group Be Here For Me said: "Eight years ago, Alina Dulgheriu found herself jobless, homeless and alone after an unplanned pregnancy. She'd been fired from her job as a live-in nanny and abandoned by her boyfriend.
"She went to Marie Stopes to get advice on her options, but all they could offer her was an abortion. She didn't want that but didn't know where to turn.
Her life was changed when she met a pro-life volunteer at the gates of the abortion centre who told her that she did have options, that there was help available, and that she could keep her baby if she wanted."
Last week it was revealed that one in four pregnancies in the UK ended in abortion.