An Anglican priest has given the Mayor of London, Sadiq Khan the first dose of a Covid-19 vaccine.
Mr Khan got the jab at a vaccine centre based in Mitcham Lane Baptist Church on Friday.
He said in a Facebook post: "Love that as a Mayor of Islamic faith, I received my COVID vaccine at a local church, from Reverend Dr Sue Clarke, who came out of retirement to volunteer as a vaccinator. This is London: our diversity is our strength."
Rev Clarke is a retired vicar of St Paul's Furzedown, currently ministering in the across the Diocese of Southwark. She;s also a retired consultant at Guys Hospital. She has been volunteering as a vaccinator for the last six weeks.
She said, "It has been a great joy and privilege to vaccinate members of the local community, including parishioners, over the past six weeks. London's mayor, Sadiq Khan choosing to share his vaccination experience publicly will hopefully encourage those who feel worried and anxious to take up the offer when they receive the invitation to attend."
Hannah Roberts, church manager oat Mitcham Lane Baptist Church, added: "Mitcham Lane Baptist Church has been open as a Covid vaccine centre since the middle of January and in that time over 5,000 local residents have been able to receive their vaccination, including many of our own church family.
"The church has been operating online for nearly a year now with very few people using our extensive buildings, so it has been a real joy and privilege to be able to serve our local community in this way and fits in so well with the church motto: 'Love God, Love People, Love Life'.
"We look forward to continue working together with the Greyswood Practice until we reach a point, hopefully not too far in the future, when we can open again fully for services and the return of all the local community groups that we previously hosted."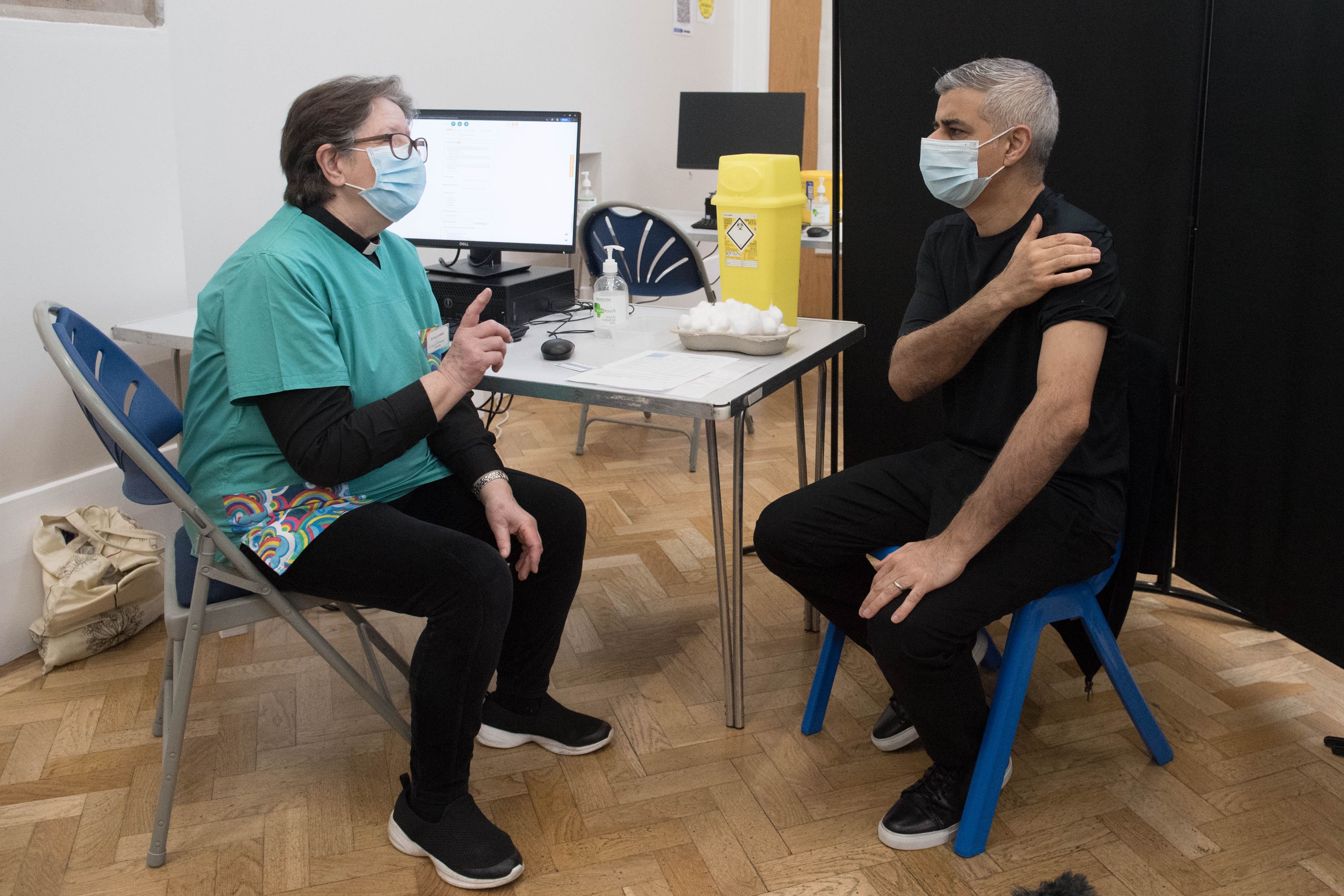 Mr Khan suffers from severe asthma for which he takes steroid tablets. As of this week, people aged 16 to 65 with a range of health conditions that put them at risk from the virus are being invited to take the vaccine.
The mayor has urged Londoners to accept their invitation to get vaccinated.
"I'm relieved and very grateful to have received the first dose of my COVID-19 vaccine today," he said in a statement.
"These vaccines are a testament to the hard work of scientists around the world and we owe them, and the NHS staff and volunteers who are helping to deliver the jabs, a great deal of thanks.
"The widespread rollout of these vaccines will protect us from serious illness, will help us all to get back to the things we have missed and let us see the people we love.
"It's fantastic that more than 1.5m Londoners have already received their first dose and I again urge all Londoners to have the vaccine as soon as you are offered it. It is safe and it will save lives."